Lisa Blair's official launch by Dick Smith 2016
Date Posted:24 November 2016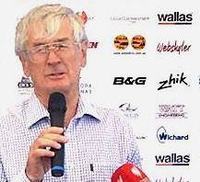 Solar 4 RVS, Solar 4 Boats was featured on the sponsor billboard at D'Albora Marina, The Spit, Sydney as one of the sponsors of Lisa Blair's epic circumnaviation of Anarctica.
Along with Solbian Italy we have jointly supplied 8 SolbianFlex solar panels and 8 Genasun boost solar charge controllers to fit out her zero carbon emission yacht.
Dick Smith hosted the launch of her yacht 'Climate Action Now' in her bid to become the first female, to sail around Antarctica solo, non-stop and unassisted.
Lisa will attempt to become the third person in history to achieve such a challenge which is made extremely difficult due to large waves, aggressive storm systems, ice and exposure to the icy waters and the cold.
She aims to complete the 16,400 nautical-mile circuit, unassisted, in 90 days and break the record of 102 days, one hour, 35 minutes and 50 seconds.