Touring Australia Magazine 2016
Date Posted:28 July 2016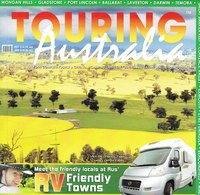 Touring Australia Magazine has featured Solar 4 RVs for a second time. Winning multiple awards has certainly attracted media attention.
The magazine first featured owners Phil and Trish in the winter edition of 2015 talking about lightweight solutions for travellers.
This second article highlights the enormous growth the company has experienced and mentions the extra trading names of Solar 4 Boats and Solar 4 Industry that reflects the diversification that has occured.
The article also highlighted new products on offer such as black solar panels and interesting projects Solar 4 RVs has been involved in.