The Wanderer Magazine 2018
Date Posted:31 January 2018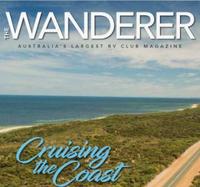 The Wanderer Magazine is Australia's largest RV Club Magazine.
The January issue featured Solar 4 RVs new eArche lightweight solar panels. These panels are approved by the Clean Energy Council and have a 10 year manufacturer's warrenty for buildings and 5 years for mobile applications.
The unique EPDM rubber edge provides protection whilst allowing maximum flexibility. The thin black annodised aluminium frame allows a low profile installation with stability for an air gap.