Solar and Storage Magazine Winter 2018
Date Posted:29 June 2018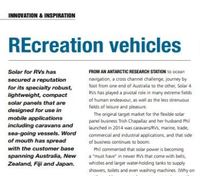 Solar & Storage is the flagship publication of the Smart Energy Council (incorporating the Australian Solar Council and the Energy Storage Council).
The magazine (both in print and digital formats) is a technical and practical resource that delivers insights and analysis to the solar, energy storage, renewables and smart energy industries. The magazine covers industry news and comment, technical guides and information making it a must read if you work in or are interested in Smart Energy and Renewables.
Solar 4 RVs features in the Winter 2018 Edition highlighting some of our projects.