Caravan World Magazine October 2018 edition
Date Posted:15 October 2018
Solar 4 RVs is featured on page 12 of Caravan World Magazine's October 2018 edition.
In an article titled "Solar 4 RVs Gets Top Gong" Caravan World talks about our win in the 2018 Australian Business Awards for the category "Eco Innovation".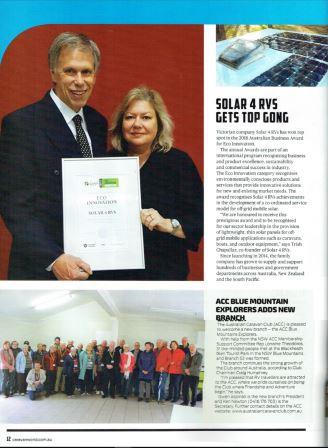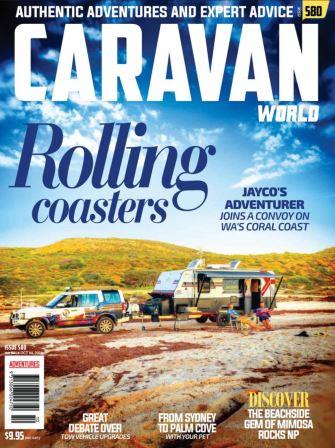 -- Article text --
"Victorian company Solar 4 RVs has won top spot in the 2018 Australian Business Award for Eco Innovation.
The annual Awards are part of an international program recognising business and product excellence, sustainability and commercial success in industry.
The Eco Innovation category recognises environmentally conscious products and services that provide innovative solutions for new and existing market needs. The award recognises Solar 4 RVs achievements in the evelopment of a co-ordinatoed service model for off-grid mobile solar.
"We are honoured to receive this prestigious award and to be recognised for our sector leadership in the provision of lightweight, thin solar panels for off-grid mobile applications such as caravans, boats, and outdoor equipment." says Trish Chapallaz, Co-founder/Owner of Solar 4 RVs.
Since launching the family business in March 2014 Solar 4 RVs has grown to supply and support hundreds of businesses and government departments across Australia, New Zealand and the South Pacific.
-- End --