Caravan Industry News 2017 Optus Award win
Date Posted:5 December 2017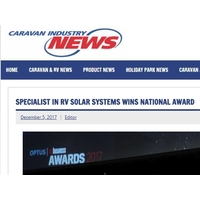 Caravan Industry News has publicised Solar 4 RVs award win at the National Optus My Business Awards held in Sydney.
The award win reflected Solar 4 RVs leadership as a specialist provider of solar systems for the RVs and marine sectors.
Caravan Industry News is published by Parable Productions, the producer of What's Up Downunder.