Australian Solar Council Magazine Spring 2015
Date Posted:17 September 2015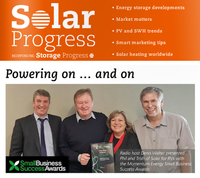 The 2015 Spring Edition of Solar Progress Magazine on page 6 featured our 3AW award win.
Now called 'Solar & Storage' magazine this flagship publication of the Australian Solar Council and the Energy Storage Council provides a technical resource delivering insights and analysis for industry professionals.
Solar & Storage magazine is published quarterly and has an average print run of 7,400 copies, with an estimated readership of 23,500 industry professionals.
The magazine has been published continually since 1980 with articles written by technical experts, engineers and scientists.