APP IS GERMAN LANGUAGE ONLY
Compatible with LCD Battery Computer S and VPC Jupiter with Smart-Shunt
Compatible with Votronic Solar Charging Controller (SR and MPP) from 2014 with LCD Solar Computer S
Solar and battery information via a common communication module (dual mode)
Easy installation (plug & play)
Retrofittable at any time
Compact design and minimum current consumption
Connection via Bluetooth 4.0 (2.4 GHz)
Open-air range up to 50 m
Free App (Android and iOS)Export as CSV file for purposes of analysis
Description
The Votronic Energy Monitor is a special communication module (Bluetooth connector S-BC). Combined with a Votronic Solar Charging Converter (from 2013) with LCD Solar Computer S and/or the LCD Battery Computer S or VPC Jupiter with Smart Shunt, the values, which are indicated on a corresponding display, are communicated to a mobile terminal device via Bluetooth. The required app for Android or iOS can be downloaded free of charge from Google Play Store or IOS App Store.
Connection of the Bluetooth Connector S-BC is simple as can be. Connect the delivered modular cable to the Votronic Solar Charging Controller and the LCD Solar Computer S or to the Smart Shunt and the LCD Battery Computer S or the VPC Jupiter.
The unit is equipped with 2 inputs and 2 outputs allowing the connection of 1 solar controller with LCD Solar Computer and 1 Smart Shunt with LCD Battery Computer or VPC Jupiter at a time.
In this way, all information of the board battery, such as voltage, charging current, discharging current, the residual capacity and all data of the solar system can be read conveniently via mobile phone or tablet. In addition, the most important data are recorded and graphically represented, and they are stored for a longer period. Also, an export as CSV file for purposes of analysis is possible. Later installation of the Bluetooth Connector S-BC is possible at any time.
The Bluetooth-Connector S-BC is compatible to the following devices:
VOTRONIC Solar-Charging-Regulator in SR- and MPP-Technology fromm 2014 (Serial-Number
14Vxx.xxxxx)
Battery Charger Series VBCS-Triple
LCD Batterie Computer S with Smart Shunt (all executions)
VPC Jupiter with Smart Shunt (all executions)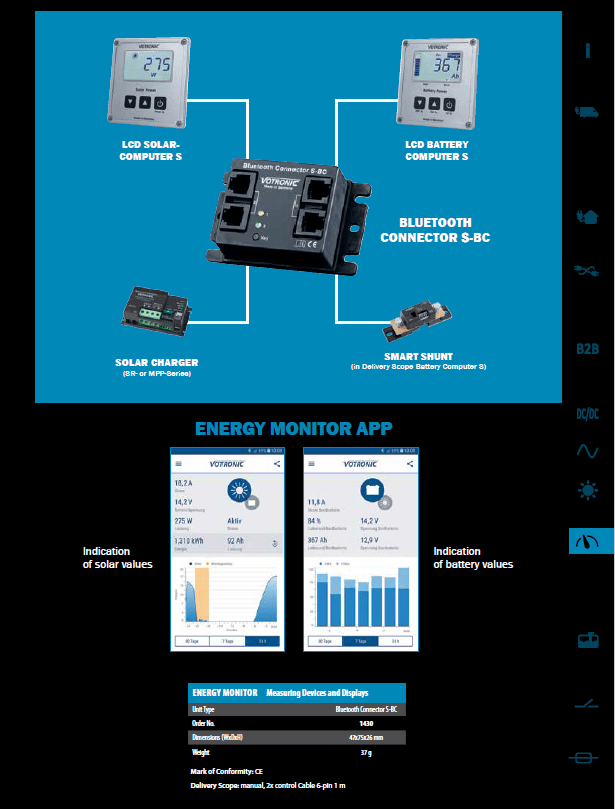 (Vot-1430)

We are liable for material defects of all our products within 36 months from the purchase date against representation of the sales slip or of the invoice, proper handling, intended use and consideration of the installation and operating manual provided. If the buyer or third execute modification and repair tasks to the product (external intervention) or will the electronic or the entire product damaged by moisture, any claims for defects for these tasks and the results being involved will be void. Claims will also be void for any service being performed by third, which has not been ordered by us in writing. Service is exclusively allowed to be performed by Votronic GmbH & Co. KG Lauterbach.
---
Others Also Bought
---
More From This Category