Victron Battery Monitor BMV-712 Smart
Bluetooth built-in
Battery 'fuel gauge', time-to-go indicator, and much more
The remaining battery capacity depends on the ampere-hours consumed, discharge current, temperature and the age of the battery. Complex software algorithms are needed to take all these variables into account. Next to the basic display options, such as voltage, current and ampere-hours consumed, the BMV-700 series also displays state of charge, time to go, and power consumption in Watts. The BMV-712 features an additional input which can be programmed to measure the voltage (of a second battery), battery temperature or midpoint voltage (see below).
Easy to install
All electrical connections are to the quick connect PCB on the current shunt. The shunt connects to the monitor with a standard RJ12 telephone cable. Included: RJ 12 cable (10 m) and battery cable with fuse (2 m); no other components needed. Also included are a separate front bezel for a square or round display appearance, a securing ring for the rear mounting and screws for the front mounting.
Easy to program (with your smartphone!)
A quick install menu and a detailed setup menu with scrolling texts assist the user when going through the various settings. Alternatively, choose the fast and easy solution: download the smartphone app
Midpoint voltage monitoring (BMV-702 and BMV-712 only)
This feature, which is often used in industry to monitor large and expensive battery banks, is now for the first time made available at a low cost, to monitor any battery bank.
A battery bank consists of a string of series connected cells. The midpoint voltage is the voltage halfway along the string. Ideally, the midpoint voltage would be exactly half of the total voltage. In practice, however, deviations will be seen, that depend on many factors such as a different state of charge for new batteries or cells, different temperatures, internal leakage currents, capacities and much more.
Large or increasing deviation of the midpoint voltage, points to improper battery care or a failed battery or cell. Corrective action following a midpoint voltage alarm can prevent severe damage to an expensive battery. Please consult the BMV manual for more information.
Standard features
Battery voltage, current, power, ampere-hours consumed and state of charge
Remaining time at the current rate of discharge
Programmable visual and audible alarm
Programmable relay, to turn off non critical loads or to run a generator when needed
500 Amp quick connect shunt and connection kit - Shunt selection capability up to 10.000 Amps
VE.Direct communication port
Stores a wide range of historical events, which can be used to evaluate usage patterns and battery health
Wide input voltage range: 6,5 – 95V
High current measurement resolution: 10 mA (0,01A)
Low current consumption: 2,9Ah per month (4mA) @12V and 2,2Ah per month (3mA) @ 24V
BMV-712 additional features
Additional input to measure voltage (of a second battery), temperature or midpoint voltage, and corresponding alarm and relay settings.
More about midpoint voltage
One bad cell or one bad battery can destroy a large, expensive battery bank. When batteries are connected in series, a timely warning can be generated by measuring the midpoint voltage. Please see the BMV manual, section 5.2, for more information. We recommend our Battery Balancer (BMS012201000) to maximize service life of series-connected batteries.
Bluetooth inside (BMV-712 Only)
With Bluetooth built-in, the BMV Smart is ready for the Internet of Things (IoT) era. With Bluetooth being implemented in most other Victron Energy products, wireless communication between products will simplify system installation and enhance performance.
Bi-stable alarm relay prevents increased current draw in case of an alarm.
Download the Victron Bluetooth app
Use a smartphone or other Bluetooth enabled device to
customize settings,
monitor all important data on single screen,
view historical data, and to
update the software when new features become available.
(
BAM030712000
)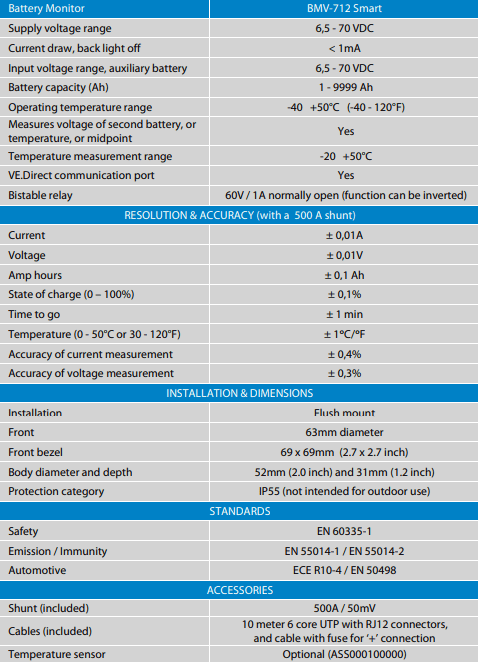 Victron Energy Limited Warranty Policy

Victron Energy warrants its products to be free from defects in workmanship and materials for a period of 5 years from the date of purchase by the end user, with a maximum of 66 months from the Victron Energy invoice date. Exceptions on this are: lead acid batteries; 2 years from date of purchase by the end user, with a maximum of 30 months from the Victron Energy invoice date, Lithium-ion batteries; 3 years from date of purchase by the end user. In addition to this proof of correct battery usage is required when making a battery warranty claim.

During this period, Victron Energy will, at its option, repair or replace the defective product free of charge. The warranty does not include performing or reimbursing de‐installation, transportation and re‐installation. This warranty will be considered void if the unit has suffered any physical damage or alteration, either internally or externally, and does not cover damages arising from improper use like:
• Reverse of battery polarity.
• Inadequate connection.
• Mechanical shock or deformation.
• Contact with liquid or oxidation by condensation.
• Use in inappropriate environment (dust, corrosive vapor, humidity, high temperature, biological infestation...).
• Breakage or damage due to lightning.
• Connection terminals and screws destroyed or other damages, like overheat, due to insufficient tightening.
• For any electronical breakage except due to lightning (reverse polarity, over‐voltage due to external cause), the state ofthe internal control diode and of the inputs/output X and Y capacitors determine the warranty.

This warranty will not apply where the product has been misused, neglected, improperly installed, or repaired by anyone else than Victron Energy or one of its authorized Qualified Service Partners. In order to qualify for the warranty, the product must not be disassembled or modified.

Repair or replacement are our sole remedies and Victron Energy shall not be liable for damages, whether direct, incidental,special, or consequential, even caused by negligence or fault.

Victron Energy owns all parts removed from repaired products. Victron Energy uses new or reconditioned parts made by various manufacturers in performing warranty repairs and building replacement products. If Victron Energy repairs or replaces a part of a product, its warranty term is not extended. In case of replacement the new component has a warranty of 6 months, without effect on the initial warranty period. All remedies and the measure for damages are limited to the above. Victron Energy shall in no event be liable for consequential, incidental, contingent orspecial damages, even if having been advised of the probability of such damages. Any and all other warranties expressed or implied arising by law, course of dealing, course of performance, usage of trade or otherwise, including but not limited to implied warranties of merchantability and fitness for a particular purpose, are limited in duration to a period of two (2) years from the date of purchase.

Life Support Policy
As a general policy, Victron Energy, does not recommend the use of any of its products in life support applications where failure or malfunction of the Victron Energy's product can be reasonably expected to cause failure of the life support device or to significantly affect its safety or effectiveness. Victron Energy does not recommend the use of any of its products in direct patient care. Victron Energy will not knowingly sell its products for use in such applications unless it receives in writing assurances satisfactory to Victron Energy that the risks of injury or damage have been minimized, the customer assumes all such risks, and the Liability of Victron Energy is adequately protected under the circumstances.

As a product requires service, it must be brought back to the place of purchase. In case no contact can be taken with the merchant, or if he is either unable or not allowed to provide service, direct contact should be taken with Victron Energy.

Warranty on Repairs
The warranty period on products or on printed circuits boards repaired by Victron Energy as well as on printed circuit boards for replacement is 6 months from delivery by Victron Energy.

Transport
It is the responsibility of the sender to sufficiently package these products. The transport must be organized in a way to avoid any damage, especially when a single unit or heavy unit is sent.

Severability
If a part of the terms and conditions set out above is held invalid, void or unenforceable due to any particular national or international legislation, it shall not affect other parts of the terms and conditions remaining.

For Australia only
Our goods come with guarantees that cannot be excluded under the Australian Consumer Law. You are entitled to a replacement or refund for a major failure and compensation for any other reasonably foreseeable loss or damage. You are also entitled to have the goods repaired or replaced if the goods fail to be of acceptable quality and the failure does not amount to a major failure.
---
Or Swap To:
---
More From This Category