RADpower range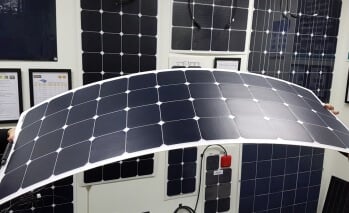 These RADpower Monocrystalline PhotoVoltaic (PV) flexible solar panels are Solar 4 RVs brand so we are very focused on consistent quality and reliability.
Range available
These flexible solar panels are made with genuine latest release SunPower Maxeon Gen III cells.
Features :
Highest efficiency cells - latest release SunPower Maxeon Gen III cells (no seconds). Our manufacturer has certification from SunPower that they access genuine SunPower cells and they provide us with the SunPower certificate of origin;
Lightweight - 2.3 kg for 110W
These flexible solar panels contain high performance and high reliability solar cells with Smart Wire Connection Technology (SWCT)
Features:
Lightweight - 2.8 kg for 130W
Thin - only 3mm
Features of SWCT:
No bus bars so less eletrical loss during transfer;
Due to the dense contact matrix, the solar cells have a significantly higher efficiency. In comparison to conventional 3-busbar technology, SWCT delivers an increased performance yield of 6%;
SWCT exhibits an increased energy yield in terms of kWh/Wp under real outdoor conditions;
More effective power generation - dense wire mesh matrix enables increased power extraction;
20.6% efficiency and low light performance;
Cells more resistant to cracking.
Both ranges have:
Tough UV resistant ETFE top layer
Sealed junction boxes to prevent moisture penetration that can cause corrosion;
Eyelets can be added in our workshop
Zips can be added by your canvas machinist
Detailed instructions provided based on extensive research, testing and field trials (for vented air gap or installation on canvas)
Monitoring quality
We do not purchase cheaper off-the-shelf solar panels that may have overlapping, damaged or inferior cells, sharp edges, unsealed junction boxes or silicone partially blocking cells near the junction box.
Our manufacturer has a clear understanding of our Australian quality expectations and customer needs. They manufacture to our specifications for each order we place. This ongoing professional relationship and communication facilitates reliable and consistent stock quality. We have visited the factory in China as part of our continuous improvement and quality control program.
---