Century 75Ah AGM Deep Cycle Battery
The ultimate in deep cycle battery performance
Century AGM Deep Cycle Batteries are the ultimate in deep cycle battery performance,
designed to provide longer life and dependable deep cycling capability in the harshest of
operating conditions and environments.

The Century Deep Cycle AGM range utilises Absorbed Glass Mat (AGM) technology which
absorbs the liquid electrolyte within highly porous glass fibre mat separators. This eliminates
loose electrolyte whilst the sealed maintenance free design prevents acid leaks and the need
for on-going maintenance. Extra strong grid designs, superior active paste material and
robust internal components ensure lower self discharge, superior vibration resistance, longer
cycle life and improved recharge capabilities.

Century Deep Cycle AGM batteries are ideal for use in applications where fast recharge, and
superior deep cycle capabilities are required, such as recreational vehicles and accessories,
dual battery systems, golf carts, electric wheel chairs, mobility scooters and marine systems.
Features:
Spill proof - ideal for 90° side mount applications

Fast recharging capabilities and long cycle life

Maintenance free design
(C12-75XDA)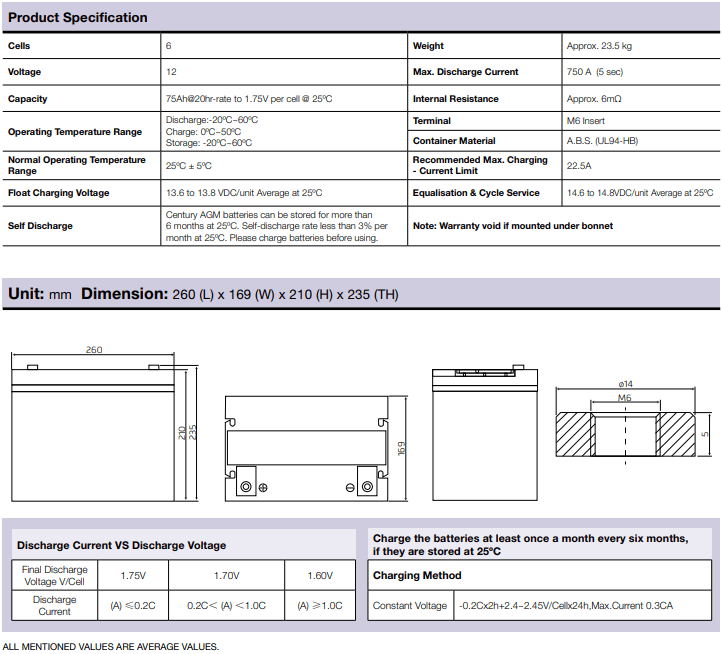 24 months warranty - Conditions apply. Refer to individual warranty statements affixed to each product.
---
More From This Category