VictronConnect App user Guide
Date Posted:25 February 2019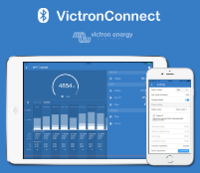 VictronConnect manual
1. Download and installation
2. Connecting
​To prevent unauthorised connections to your device we recommend you change the PIN code. Avoid using obvious PIN codes such as 111111 or 123456.
2.3 Resetting the Bluetooth Smart pin code
VE.Direct Bluetooth Smart dongle
Blue Smart Chargers IP65
Blue Smart Chargers IP22
Blue Smart Chargers IP67
Blue Smart Solar Charger
BMV-712 Smart
Smart LiFePO4 Batteries
3. Compatibility notes on operating systems, phones and tablets
3.1 Windows PC
3.2 macOS X
3.3 Android devices
Android 4.1 and 4.2
Android 4.3 and 4.4
Android 5
Android 6 and later
Access to location services required?
List of known non-compatible Android devices
List of known compatible Android devices
3.4 Apple iOS iPhones and iPads
4. Application overview
4.1 Screenshots
4.2 Videos
4.3 Renaming your devices
4.4 Importing and converting a GX Product Family database File
5. Product alarms & errors
6. Settings files
7. Demo feature
8. Firmware updates
8.1 Introduction & automatic updates
8.2 Updating to a self-supplied firmware file
Instructions for Windows and MacOS computers
Instructions for Android and iOS phones and tablets
8.3 Troubleshooting firmware updates
8.4 Error codes
9. Troubleshooting
9.1 Cannot find my device (Bluetooth)
9.2 Bluetooth connection issues on Android devices
Step 1: Check that your device is supported
Step 2: Check the Android version
Step 3: Check that VictronConnect has access to the Location services
Step 4. Enable Location (or GPS) functionality in the system settings
Step 5. Search & connect from within VictronConnect ...NOT from the system Bluetooth menu
Step 6. Try another phone at first
9.3 Problems during firmware updating
Update stops at 4% or earlier
9.4 VE.Direct USB driver problem on macOS X 10.9 (Mavericks)
Step 1. Open the terminal and run the following commands:
Step 2. Restart the computer
Step 3. Download and install the compatible FTDI driver
Step 4. Restart the computer
9.5 VictronConnect on Windows doesn't find VE.Direct USB connected devices
9.6 VictronConnect on Android doesn't show files oppened from email or file manager apps
10. Compatible Victron products
SmartSolar MPPT Charge controllers
Blue Smart IP22 Chargers
Blue Smart IP65 Chargers
Blue Smart IP67 Chargers
Battery Monitors
BlueSolar MPPT Charge controllers
Phoenix Inverters VE.Direct
Peak Power Pack
Smart LiFePO4 Lithium Batteries
Smart Battery Sense
MultiPlus, EasySolar, Quattro, Phoenix Inverter with VE.Bus, and similar products