How to be an Award winning business
Date Posted:2 August 2018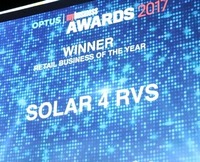 Solar 4 RVs features on the 2018 Awards page providing tips on how to stay ahead of the pack and be an award winning business.
Nominations for the 2018 Optus My Business Awards are now open.
Solar 4 RVs is a two-time Optus My Business Award winner and proud to have won:
Australian 'Retail Businss of the Year' in 2017, and
Australian Sustainability Initiative of the Year in 2015
CLICK HERE for the article page or read below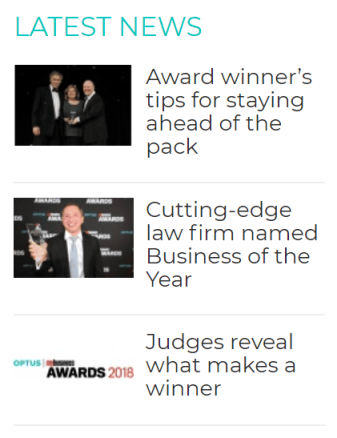 Award winner's tips for staying ahead of the pack
Having been crowned Retail Business of the Year for 2017 at the Optus My Business Awards – their second win since 2015 – Solar 4 RVs director and co-founder Trish Chapallaz was faced with repeated questions about how she keeps her business not just competitive, but thriving.
According to Trish, there are six core facets to success in business:
Remember the basics

"Solve a problem, meet a need or fulfil a want," she said."Customers want to feel special; it's not just about customer service – it's about the whole customer experience."
That means knowing the difference between cost and value, and knowing exactly what it is that you are ultimately selling to your customers.
"We don't sell solar – we sell the ability to free-camp in remote places without connecting to the grid."
Success is not random

It can sometimes feel like pure luck is all it takes for some people to achieve success in their field. Yet Trish cautioned that success is anything but random."Passion is the driver, but it won't take an idea to reality. Planning and action will," she said.
"It's like spinning your car wheels when you take off too quick – it's exciting but it won't get you anywhere!"
Be unique

"Don't try to be all things to all people. Master a few things rather than being mediocre at everything," said Trish.
"Our target market is customers that want professional advice by a qualified engineer and are prepared to pay a premium for quality products.
"And utilise disruptive thinking to gain a distinctive competitive advantage."
Build your brand

According to Trish, being price conscious is important, but is far from the be all and end all of customer attraction and retention.
Instead, she suggested that everything a business does has relevance, making the old saying about the devil and the detail more true now than ever before.
"Everything you do impacts on your brand, so make every little thing count," she said.
Innovate, rather than stagnate

Embracing change is a fundamental component to business growth, whether it be in what you sell or even how you go about selling it.
"Don't focus on percentage increases in sales/customers. Be unique, be better, and the increase will come," said Trish.
And that requires a proactive approach to identify changes that could be implemented in your business, rather than waiting for a chance to arise or a problem to force it upon you.
Actions speak louder than words

My Business has heard it time and time again, but yet it seems so many people fail to do the most fundamental of points: action.
"'Let's give it a try' means you're not 100 per cent committed to succeeding, and 'That will never work' is a sure-fire assassin for progress," said Trish.
"Doing the difficult things gives you a sense of achievement and renewed energy. So blow up roadblocks – don't wait for them to clear, just get rid of them!"
Trish's checklist for embracing best practice:
When was the last time you found a way to lead the future rather than following competitors?
When was the last time your business did something innovative/different?
When was the last time you rolled out a new product?
When did you last have a 'think tank' to come up with new ideas?
When was the last time you entered a new market?
When was the last time you sought to exploit a market opportunity? (i.e. Do you know what is out there?)
How has your business embraced social media?