Solar Power Estimate Calculator SPEC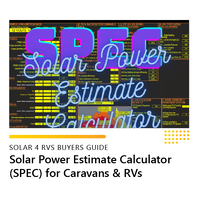 Solar Power Estimate Calculator (SPEC) for caravans and other RVs
This questionnaire helps you identify what combination of solar power products best suits your specific circumstances and needs.
The calculator takes into account the power consumption you use in your caravan/RV and your travel destinations.
The SPEC is copyright © Solar 4 RVS 2014 so please read the copyright information below.
How to use the SPEC (Simple and Advanced)
There are 7 Sections (left to right and top to bottom):
Sections 1-6 will identify what system you need
Section 7 will let you input the wattage of panels you currently have/propose so you can see how long you can free-camp based on the battery capacity that you enter here.
​Some boxes require input whilst others automatically re-calculate:
If a box has a yellow background you can manually change the figure. It may have a pre-populated value which is a general assumption that is changeable.
If the box has a black background, the figure that appears has been automatically calculated.
Section 1: Power Consumption Data
From the drop down menu select battery voltage - 12V, 24V, 36V or 48V. Then enter either watts (column 1) OR Amps (Column 2) of items that will consume power plus the daily hours the item will generally be used (column 3). Column 5 lets you select whether the item is used day and night, just day or just night time. This section is pre-populated with some example data that should be checked and modified by the user for their specific needs.
Section 2: PV & Battery Performance Data
This section is pre-populated using real equipment data. The data, particularly the battery performance data should be checked and modified by the user if necessary. Enter how many hours you require the batteries to sustain your use, 24 to 72 hours is recommended depending on length of free-camping time and if back-up charging is available (i.e. a generator, DC-DC or a mains charger)
Advanced Only - Section 3: PV Solar Sizing Calculations
This section automatically calculates the required PV solar system size based on data in sections 1 and 2.
Advanced Only - Section 4: Battery Sizing Calculations
This section automatically calculates the required battery capacity based on data in sections 1 and 2.
Section 5: Select Location and Season
This section allows you to choose a location and season from the drop down menu. This may be a regular travel destination or area where you will use the solar power the most e.g. Tropical North Queensland in Australia's winter (dry season up north). Once chosen, the location on the map will display the peak solar panel power, the solar charge controller capacity and the battery capacity required for that location.
Note: The map shows annual solar radiation levels from lowest (dark blue) to highest (red) across Australia. (Source: http://www.energyfutures.qld.gov.au/solar.cfm)
Section 6: Calculation Results
This section displays your solar power system component requirements based on the data entered.
Advanced Only - Section 7: Current/Proposed system
Since the calculation results in section 6 are only a guide, this section gives you the opportunity to choose a smaller system. You just need to enter your current/proposed panel wattage and battery Ah. The automatic calculations then display how long you can be independent without mains power based on the amount/size of panels you have/propose and the battery capacity you have/propose.
Please email through a screenshot to info@solar4rvs.com.au for a system quote.
Copyright
The contents of the Solar 4 RVs website, including the SPEC, are protected by copyright law under the Copyright Act 1968. This includes text, images, software, logos, icons, and code. Please read the following carefully.
If you wish to:
Reproduce
Publish
Store
Print
Comunicate to the public by transmitting electronically or making it available for access online for non-commercial or educational purposes.
Then you may:
Solar 4 RVs must be identified as the source of the material and a prominent link to the Solar 4 RVs web page from which the material was sourced MUST be included
Any copyright statement or logo included on, or in connection with, a set of material must be retained
Material must not be distorted or altered in any way.
In the event that you wish to use or transmit the material which appears on this site for a purpose other than personal, in-house or non-commercial use, or you wish to alter the material, you MUST apply to Solar 4 RVs at the following postal or email address for formal permission:
Copyright Officer
Solar 4 RVs
Unit 13, 5 Kelletts Road
ROWVILLE VIC 3178
OR info@solar4rvs.com.au
If in doubt contact us to seek clarification.
IMPORTANT: Use of material in a way not permitted in accordance with the Copyright Act 1968 may be an infringement of copyright. Infringing copyright may expose you to legal action by, and liability to, the copyright owner (Solar 4 RVs).