Western Co. WRM15 (dualB-E) DUAL BATTERY MPPT Solar Charge Controller
MPPT charge controller to for two independent batteries
WRM15 dualB-E is a MPPT charge controller for PV applications with automatic charge management of two batteries, one primary and one secondary. The device uses the Bluetooth interface to connect with Android and iOS mobile devices by the dedicated APP.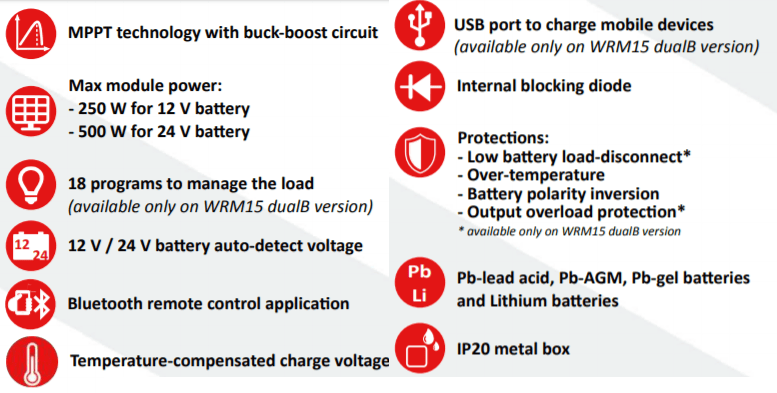 (015979 015973)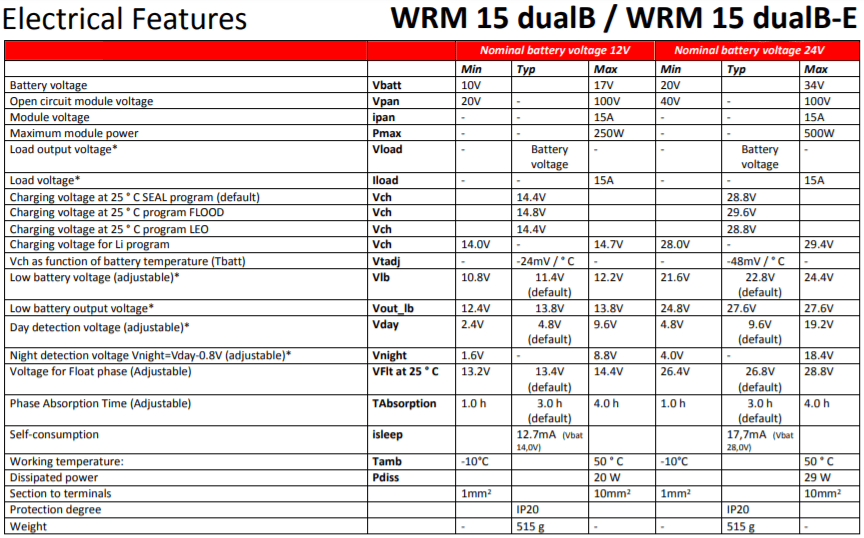 As a manufacturer of photovoltaic electronic systems, Western CO. S.r.l. offers a five-year warranty in the event of defects on the entire product range. All products bearing brands other than Western CO. S.r.l. are therefore excluded from this warranty, although still marketed by the same Company.
The warranty begins on the date mentioned on the receipt confirming the purchase of the product.
The application of the warranty is subject to proven defects of the product and does not cover other defects, except those described in the warranty conditions specified in the manual of each product.
To guarantee means only the free repair or replacement, at the discretion of WESTERN CO. LTD, including labor, the faulty parts recognized in manufacturing or material.
Are excluded from the warranty: parts subject to wear following use, the batteries (if provided), cables, and the connection cords, connectors, external parts and the plastic supports which do not show manufacturing defects.
This warranty does not cover faults caused by overvoltage or overcurrent, failure of equipment that you have tampered with, or tampering with the seal of guarantee or damaged by the customer, etc.
In all these cases, even with a valid warranty certificate, the equipment will be repaired at the expense of the Customer prior notification and authorization.
Technical assistance under warranty (within 5 years from date of purchase) is provided at the only service center WESTERN CO. LTD.
To get a warranty repair, you must complete and submit the form "Request for Technical Assistance" in all its parts and complete the serial number of the product, together with a copy of the sales receipt.
For the full range of charge controllers, in addition to the traditional Technical Assistance mode it joins the new mode called "Swap Repair" (Advance Replacement).
This mode allows the immediate replacement of the defective product with a similar product regenerated, in order to eliminate the waiting time of the repair.
At the expiration of the warranty period (5 years) or decay of one of the causes that give the right to the guarantee, assistance interventions will be made with the charging of the costs incurred for the replaced parts and labor costs, according to the rates in force exhibited in the Technical Assistance points.
---
Others Also Bought
---
More From This Category