Victron EasySolar 24/1600/40-16 Inverter/Charger with 100/50 MPPT
The product is easy to install, with a minimum of wiring
$2,485.89
RRP $2,762.10
SAVE $276.21 (10%)
Special Order
The Victron Australian warehouse is located in Melbourne, normally special order items arrive in approx. 2-4 days.
Scroll down for recommended alternative products we keep in stock!

Free Fastway shipping for orders over $500 on items this size to capital cities. Calculate shipping in cart for more details.
All-in-one solar power solution
The EasySolar combines a MPPT solar charge controller, an inverter/charger and AC distribution in one enclosure.
The product is easy to install, with a minimum of wiring.
The solar charge controller: Blue Solar MPPT 100/50
Up to three strings of PV panels can be connected to three sets of MC4 (PV-ST01) PV connectors.
The inverter/charger: MultiPlus Compact 12/1600/70 or 24/1600/40
The MPPT charge controller and the MultiPlus Compact inverter/charger share the DC battery cables (included). The batteries can be charged with solar power (BlueSolar MPPT) and/or with AC power (inverter/charger) from the utility grid or a genset.
AC distribution
The AC distribution consists of a RCD (30 mA/16 A) and four AC outputs protected by two 10A and two 16A circuit breakers.
One 16A output is controlled by the AC input: it will switch on only when AC is available.
PowerAssist
Unique PowerAssist technology protects the utility or generator supply from being overloaded by adding extra inverter power when needed.
Unique solar application software
Several software programs (Assistants) are available to configure the system for various grid interactive or stand-alone applications.
(
CEP241621010
)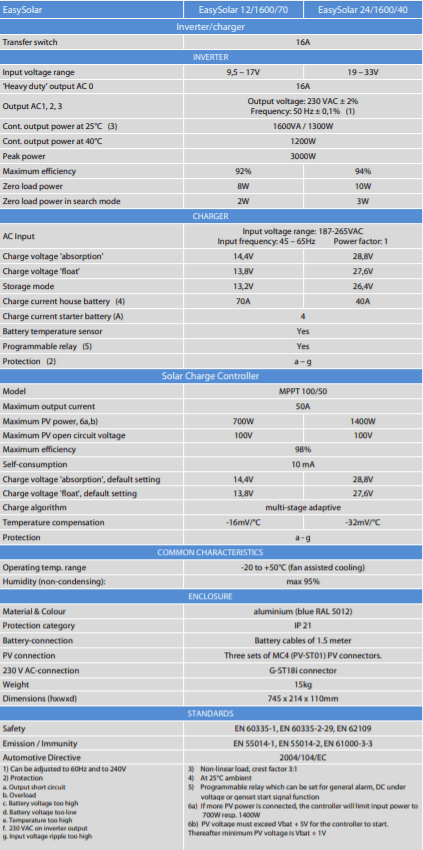 Victron Energy Limited Warranty Policy

Victron Energy warrants its products to be free from defects in workmanship and materials for a period of 5 years from the date of purchase by the end user, with a maximum of 66 months from the Victron Energy invoice date. Exceptions on this are: lead acid batteries; 2 years from date of purchase by the end user, with a maximum of 30 months from the Victron Energy invoice date, Lithium-ion batteries; 3 years from date of purchase by the end user. In addition to this proof of correct battery usage is required when making a battery warranty claim.

During this period, Victron Energy will, at its option, repair or replace the defective product free of charge. The warranty does not include performing or reimbursing de‐installation, transportation and re‐installation. This warranty will be considered void if the unit has suffered any physical damage or alteration, either internally or externally, and does not cover damages arising from improper use like:
• Reverse of battery polarity.
• Inadequate connection.
• Mechanical shock or deformation.
• Contact with liquid or oxidation by condensation.
• Use in inappropriate environment (dust, corrosive vapor, humidity, high temperature, biological infestation...).
• Breakage or damage due to lightning.
• Connection terminals and screws destroyed or other damages, like overheat, due to insufficient tightening.
• For any electronical breakage except due to lightning (reverse polarity, over‐voltage due to external cause), the state ofthe internal control diode and of the inputs/output X and Y capacitors determine the warranty.

This warranty will not apply where the product has been misused, neglected, improperly installed, or repaired by anyone else than Victron Energy or one of its authorized Qualified Service Partners. In order to qualify for the warranty, the product must not be disassembled or modified.

Repair or replacement are our sole remedies and Victron Energy shall not be liable for damages, whether direct, incidental,special, or consequential, even caused by negligence or fault.

Victron Energy owns all parts removed from repaired products. Victron Energy uses new or reconditioned parts made by various manufacturers in performing warranty repairs and building replacement products. If Victron Energy repairs or replaces a part of a product, its warranty term is not extended. In case of replacement the new component has a warranty of 6 months, without effect on the initial warranty period. All remedies and the measure for damages are limited to the above. Victron Energy shall in no event be liable for consequential, incidental, contingent orspecial damages, even if having been advised of the probability of such damages. Any and all other warranties expressed or implied arising by law, course of dealing, course of performance, usage of trade or otherwise, including but not limited to implied warranties of merchantability and fitness for a particular purpose, are limited in duration to a period of two (2) years from the date of purchase.

Life Support Policy
As a general policy, Victron Energy, does not recommend the use of any of its products in life support applications where failure or malfunction of the Victron Energy's product can be reasonably expected to cause failure of the life support device or to significantly affect its safety or effectiveness. Victron Energy does not recommend the use of any of its products in direct patient care. Victron Energy will not knowingly sell its products for use in such applications unless it receives in writing assurances satisfactory to Victron Energy that the risks of injury or damage have been minimized, the customer assumes all such risks, and the Liability of Victron Energy is adequately protected under the circumstances.

As a product requires service, it must be brought back to the place of purchase. In case no contact can be taken with the merchant, or if he is either unable or not allowed to provide service, direct contact should be taken with Victron Energy.

Warranty on Repairs
The warranty period on products or on printed circuits boards repaired by Victron Energy as well as on printed circuit boards for replacement is 6 months from delivery by Victron Energy.

Transport
It is the responsibility of the sender to sufficiently package these products. The transport must be organized in a way to avoid any damage, especially when a single unit or heavy unit is sent.

Severability
If a part of the terms and conditions set out above is held invalid, void or unenforceable due to any particular national or international legislation, it shall not affect other parts of the terms and conditions remaining.

For Australia only
Our goods come with guarantees that cannot be excluded under the Australian Consumer Law. You are entitled to a replacement or refund for a major failure and compensation for any other reasonably foreseeable loss or damage. You are also entitled to have the goods repaired or replaced if the goods fail to be of acceptable quality and the failure does not amount to a major failure.
---
More From This Category