Solbian SXX HJT Series (Special Order)
New website live as of 17-05-2022, categories currently being updated! Please check back soon!
This category is empty! Please try another category or use our search function to find what you are looking for. If you require further assistance please contact us.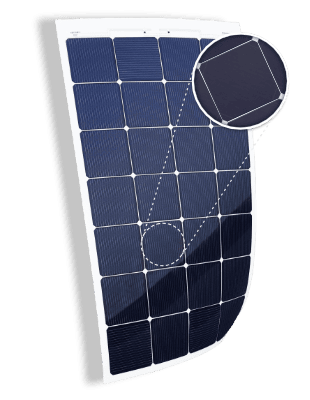 In the SXX series heterojunction solar cells are electrically connected using ultra-thin copper wires that form a very fine mesh on the cell surface, resulting in thousands of contact points. This alternative to the standard bus-bar method allows a higher module power and increases the energy yield. A technology optimally suited to flexible modules, due to its intrinsic insensitivity to micro-cracks, that are the most common cause of energy loss in solar modules.
The SXX series comes at the same size of standard 6 inches cell panels but generates more power, thanks to its silicon-based heterojunction solar cells (HJT) that offer more than 23% of efficiency. When compared with panels of the same nominal power, the SXX prove to harvest more energy due to HJT cells being intrinsically bifacial, an important feature especially when panels are encapsulated in a transparent sandwich and installed with the back exposed to indirect light. To top it all, HJT cells perform better than others in hot climates, thanks to very low temperature coefficients.
Features
High resistance to mechanical stresses thanks to the thin wires thick mesh on the cell surface
Flexible and lightweight (2.2 kg/m2)
Very high efficiency (> 23%)
Low temperature coefficients (at high temperatures HJT cells show an efficiency drop 20% lower than standard silicon cells)
Extra energy obtained thanks to the bifaciality, especially important for applications where the rear side of the module intercepts the reflection of light
Completely waterproof and resistant to salt water
Thin (less than 2 mm)
5 year warranty against manufacturing defects
Available with different front sheets, many fixing and electrical wiring options
White, black or transparent back sheet
Adaptable to any battery: from 5 to 48 volt, lead-acid or lithium
Designed and manufactured in Italy
The SXX range is available by special order only - please email or call to enquire. Availability typically two to six weeks.
Surface Mounting / Textured Surface options not available on this series. Recommened for bimini applications.