This is a very high bond acrylic foam tape is strong and conformable, which makes it very suitable for attaching flexible solar panels to solid surfaces.
The strength of this tape has been tested in-house under a variety of conditions including extreme cold and heat.
We recommend using very high bond tape to ensure the thermal expansion between the panels and the substrate is accommodated. Tape is the most effective method of attaching strips of twinwall polycarbonate sheeting to the underside of a lightweight solar panel and to the RV, vehicle, boat surface.
How to use very high bond tape to create an air gap under flexible lightweight solar panels
Attach tape to both sides of cross-cut strips of twin wall polycarbonate. This allows air flow under the panel from any direction and the use of strips provides around 90% of the underside of the cells exposed directly to air circulation.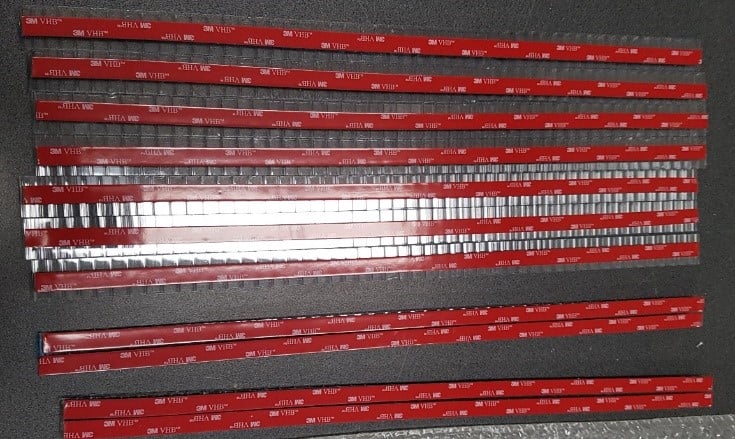 Note: We have very detailed instructions on how to install flexible solar panels with an air gap using tape and polycarb strips but unfortunately we can only distribute this to people who have purchased our solar panels as all the research, testing and field trials (and diagrams and images) relate to our brand panels and we can not guarantee the same outcome for other brands. Thank you for understanding.
(RP-PK-Tape)
This product has been found to be particularly suitable for bonding wooden (primed), aluminium (anodised) and PVC.
The conformable nature of the acrylic foam core allows for good 'wetting out' of the adhesive thus providing good
adhesive to surface contact.
Also, good contact eliminates unsightly air bubbles.
Thickness (ASTM D-3652)
Tape: 1.10mm ± 15 %
Liner: 0.10 mm
Total: 1.20 mm
Foam Density
720 kg/m³
---
Others Also Bought
---
More From This Category