Design Service


Committed to providing a personalised approach, Solar 4 RVs enables businesses to utilise solar power that is appropriate for off-grid and mobile conditions by providing qualified engineering guidance in choosing compatible products to meet specific requirements and providing an optimal solution.
We will work with you to understand your requirements and provide appropriate options to get the best results.
Why businesses choose to use our unique off-grid solar consulting and design service?
Off-grid and mobile applications introduce a diverse set of considerations compared to residential solar including:
vehicle movement which results in various sun angles onto solar panels and shading from trees, sails and antennas change frequently;
weight limitations, particularly due to towing capacity, which means heavy framed glass solar panels are unsuitable;
areas for installation which can be awkward. Sometimes the only areas available may be curved roofs, narrow boat decks or canvas biminis;
environmental conditions such as salt water or corrugated roads which means the solar panels need to be robust;
batteries may be idle for months at a time.
Professional guidance through this maze of considerations is the key to obtaining a suitable, customised system.
Our award winning ADAPT

TM

service model
The ADAPTTM service model has been designed and developed by Solar 4 RVs in response to the complexities of system design for mobile applications. It provides support before, during and after purchase and provides:
appropriate assessment and advice to ensure appropriate choices; so the end result is
an appropriately sized system to meet specific power consumption needs; with
an appropriate combination of compatible products;
installed in an appropriate way to access maximum power harvesting.
The information Solar 4 RVs provides is personalised, practical and based on extensive research, testing and field trials.
The solar system design service we provide
Solar 4 RVs offers individuals and businesses a full suite of customer service offerings so they can ADAPT their product or process to incorporate solar power.
The award winning ADAPTTM service model takes the customer though all aspects of obtaining a solar system. The five elements of the service model are:
Assessment
Design
Advice and information
Products
Through-life support
Some or all of the service model components may be uitlised depending on customer needs.
Assessment
Capture requirements including current and future off-grid power loads and output requirement;
Assess infrastructure such as solar panel location options, existing battery size and location;
Environmental considerations such as solar irradiance, shading;
Feasibility - Issues and Challenges;
Return on Investment (ROI).
Once an assessment has been made a design can be put together.
Design
System Integration including solar panel output and location, solar charge controller / regulator(s), inverters and chargers, battery type and amp hours, battery management
System connectivity such as cable entry point, cable length and gauge
Other components including fuses and diodes
CAD modelling is used to consider shading for antennas, masts, booms, sails, equipment and other factors impacting installation.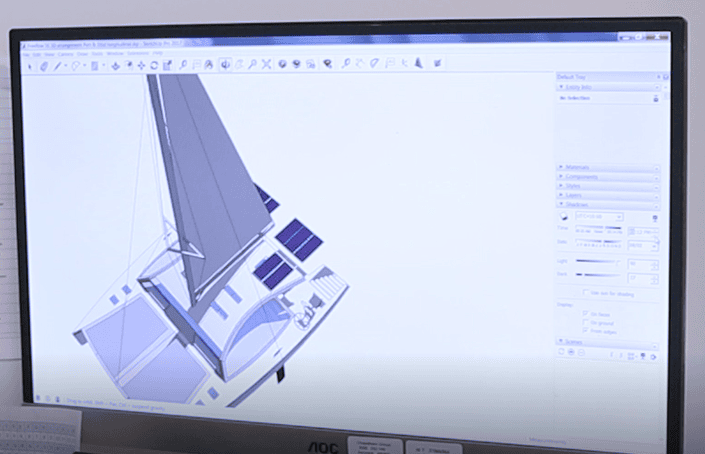 With the design options completed, the customer can be provided with appropriate and accurate information.
Advice and Information
Product options including suitable brands an capacity
Installation options including adhesion methods, location, cost, timeframe
ROI
The customer can now be in a position to make an informed decision about how to proceed, the product to choose and where and how they will be installed.
Products
Premium solar panels including standard stock sizes or custom solar panels made-to-order
Assembly of Solar 4 RVs custom products such as circuit boards, diode connectors, adapters, extension cables, solar panel combiner, custom settings for product compatibility or adding eyelets and zips to solar panels
Testing and inspection
Delivery
Documents and drawings for installation
Through-life support
Technical expertise
Training
Installation support
Product support
On-going information and advice
Feedback for continuous improvement
Warranties
The ADAPT service model is a complete service from outset to completion and beyond.
2018 Australian Business Award win for service model

Solar 4 RVs, incorporating Solar 4 Boats, is the winner of the 2018 Australian Business Award for Eco Innovation. The award recognises the company's achievements in the development of the ADAPT co-ordinated service model for off-grid mobile solar. The service model was born through customer needs and developed to provide a framework for a full suite of services to customers, not just the selling of products.
The national winners will now be entered into the international chapter of the program at The World Business Awards whereby participants are benchmarked against the top performers globally. Having our services and initiatives benchmarked against world class performance standards is a valuable experience. We are always aiming to improve.
Winning the 2018 Australian Business Award for Eco Innovation tops an impressive list of national awards won over the years including two wins at the Optus My Business Awards (2017 Australian Retail Business of the Year and 2015 Sustainability Initiative of the Year) and being listed on the SMART100.
Initiatives introduced into Australia at the cutting edge of flexble solar panel technology
Solar 4 RVs has been at the forefront of introducing new technologies into Australia and undertaking research, testing and field trials.
LiFePO4 Lithium Batteries Active Battery Management System (BMS)
Lithium battery cycles of constant use followed by dormant periods in boats and caravans requires specific management of the State of Charge (SoC) otherwise the life expectancy of the battery will be reduced. After one year of research, Solar 4 RVs identified an Active Battery Management System (BMS) solution with a bi-directional active balancing (pack to cell and cell to pack) that transfers charge between cells. This has been a game-changer for lithium use in mobile applications and Solar 4 RVs has been integral in the development with the manufacturer in Slovenia.
Securing the exclusive rights to be the Australian importer of Solbian flexible solar panels was a significant triumph. Made in Italy these solar panels have a five year warranty and are tested on the roughest oceans on the world's racing yachts. They are expensive but considered a superior choice by many yachtsmen.
Made with a Patent Pending composite material similar to those used in airplane windows, these panels are approved by the Clean Energy Council for grid connection in residential and commercial applications yet they don't have a heavy, rigid frame or glass.
The 2mm thin panels are lightweight and low rofile making them a perfect fit for mobile applications.
At the forefront of flexible solar panel installation research
Supplying premium products is only one step in providing quality options to customers. The way that lightweight, flexible solar panel are installed has a significant impact on their longevity so on-going research is vital to ensure customers receive up-to-date advice. Our installation advice and instructions are constantly being updated as a result of our testiing and trials.
Non-rigid surfaces
Flexible installation sites such as canvas biminis on boats or canvas tent roofing on camper trailers has required significant research and preparation of technical guides regarding fixing methods so that solar panel damage can be prevented. A series of technical notes with do's and don'ts of installation methods including images of correct and incorrect installations has been produced.
Roofing material
Lightweight solar panels have a different thermal expansion coefficient than the surface to which they are attached. As the roof is significantly stronger than the lightweight solar panel, the solar panels can be subjected to thermally induced stresses through the adhesive or bond method.
Some fibreglass roofs on caravans have demonstrated excessive thermal expansion during extreme summer heat and sun intensity can result in fracturing of cells. An intensive amount of research and testing has been conducted resulting in clear instructions on various installation methods that will prevent solar panel stresses and therefore cell cracking.
Air gap or no gap
Many tests have been conducted on the merits of installing flexible solar panels with an air gap though a variety of installation methods. For example multiple calibrated temperature sensing channels, comprising thermistors and analogue to digital converters plus Yoctopuce temperature sensors were fixed the underside of two flexible solar panels on a 43.9oC day to measure the difference between having an air gap or no air gap.
Working with businesses and sponsorships fosters new learnings
Solar 4 RVs has provided high profile individual sponsorships to highlight the benefits of solar on mobile applications and gain further understanding of how products perform under various conditions, for example:
Lisa Blair's zero carbon emission yacht 'Climate Action Now' was fitted with a solar system in 2017 for her quest to be the first female to solo circumnavigate Antarctica. The yacht also hosted an all women team in the Sydney to Hobart race that same year.
Two young Australians were provided with solar for their row boat in the Talisker Whiskey Atlantic Challenge. They rowed more than 3,000 nautical miles across the Atlantic Ocean supporting the charity "Make a Wish" Foundation.
Collaboration with businesses and government departments has enabled data and feedback to be collected from products in varying conditions. For example:
Solar 4 RVs first supplied the Australian Antarctic Division (AAD) with flexible solar panels and solar charge controllers for installation on Macquarie Island in 2016. The AAD generates solar power in remote field locations for a number of different scenarios including powering VHF radio repeaters, remote radio installations, automatic weather stations and remote area power supplies. This presents a tough environment for flexible solar panels that are attached to a curved water tank. The continuing work with AAD will mean further learnings will be possible from this unique installation environment.
Solar system for two new solar-electric ferries for tourist service on the Swan River in WA. The system included 36 thin, lightweight, flexible panels to the canopy (18 for each boat) plus solar charge controllers;
Solar for Downer diesel shunting locomotive;
Solar solution for the Not-for-profit School-in-a-Box project for the Kokoda Track Foundation (KFT) teacher training college in Kou Kou, Papua New Guinea;
Solar system for freeway M2M sites enabling real-time data analysis and monitoring to be transmitted via a modem back to a control centre;
A

compact solar system to power lights on a gantry crane at Lake Argyle;
Solar system to prevent road maintenance trucks having to continually run their engines to power signage and lights.
Two-time Bathurst 1000 winner, and owner of 'The Boat Works' Tony Longhurst has 15 solar panels supplied by us rebated into the deck of his new $2.5 million luxury catamaran 'Kato'.
The Adelaide University Solar Racing Team used Solar 4 RVs solar panels for their entry into the World Solar Challenge.
Yachting legend Giovanni Soldini invited the owners of Solar 4 RVs to lunch in Williamstown when he was in Australia to race in the Rolex Sydney to Hobart where he skippered the Maserati yacht to fourth in line honours with Solbian solar panels on board.
There will always be people wanting the cheapest product available, but Solar 4 RVs continues to focus on quality products and professional advice providing leadership in sustainability for recreational vehicles, marine vessels and businesses.
For a no-obligation discussion phone Solar 4 RVs on 03 97 63 33 63.