Solbian SXp Polycrystalline Series
The polycrystalline solar cells used in the SXp series are electrically connected using ultra-thin copper wires that form a very fine mesh on the cell surface, resulting in thousands of contact connected points.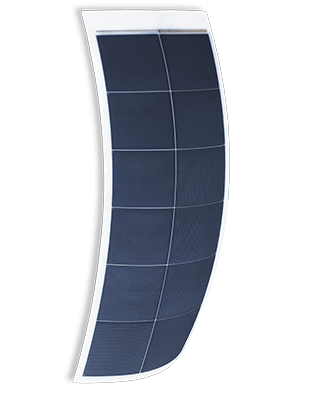 This alternative to the standard bus-bar method allows a higher module power and increases the energy yield.
This technology is optimally suited to flexible modules, due to its intrinsic insensitivity to micro-cracks, that are the most common cause of energy loss in solar modules.
Another advantage is a reduced sensitiveness to shading, a quite important issue in marine and mobility applications. The new connection technology, together with the use of high efficiency polycrystalline silicon cells, makes SXp panels especially powerful and reliable.
5 year worldwide manufacturer's warranty
Sizes and speecifications:
Features:
High resistance to mechanical stresses thanks to the thin wires thick mesh on the cell surface
Flexible and lightweight (2.2 kg/m2)
Completely waterproof and resistant to salt water
Thin (less than 2 mm)
IEC 61215 and IEC 61730 certified
5 year warranty against manufacturing defects
Integrated bypass diodes to minimise output losses associated with partial shading
Available with different front sheets, many fixing and electrical wiring options
White, black or transparent back sheet
Adaptable to any battery: from 5 to 48 volt, lead-acid or lithium
Designed and manufactured in Italy


Day4 Energy's laminated cell with patented Stay-powerful™ Technology, uniquely interconnects solar electric cells and collects the power they generate.
This innovation is a direct replacement of the conventional, high temperature solar cell soldering process. Cells are connected using a matrix of electrically-efficient copper wires coated with a custom, low melting point alloy. This technology guarantees high efficiency in low light conditions and wires act as a "bridge" across any interruption: if a microcrack occurs, the electron flow continues.
---