Solbian Super Rugged SR Series
Super Rugged (SR) Series
The monocrystalline high efficiency SR cells are sandwiched by two patented metallic grids.
The grid on the front is carefully tailored to optimize the current harvesting, while the one behind the cell offers strong mechanical support.
The grids essentially form a double shield that acts as a conducting reinforcement to the solar cell.
With extreme crack and bend tolerance built-in the SR series panels offer a guarantee of high efficiency and unmatched durability in lightweight solar panels.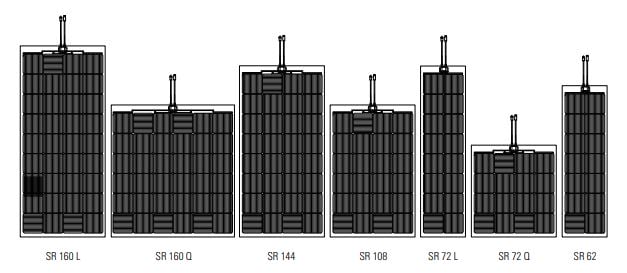 The SR Series utilises

cells
At the core of Merlin Solar's patented technology is an innovative pair of metal grids that serve as intracell and inter-cell interconnects. The same copper and solder as any other bus bar cell are used, but 20 redundant lines and 180+ interconnects, not only enable to extract more power but also dramatically improve the reliability, performance and ruggedness of the solar panels.

FEATURES
High tolerance to cracks and bending thanks to the double shield protecting the cell
Flexible and lightweight (2.2 kg/m2)
Completely waterproof and resistant to salt water
Thin (less than 2 mm)
IEC 61215 and IEC 61730 certified
5 year warranty against manufacturing defects
Integrated bypass diodes to minimise output losses associated with partial shading
Available with different front sheets, many fixing and electrical wiring options
White, black or transparent back sheet
Adaptable to any battery: from 5 to 48 volt, lead-acid or lithium
Designed and manufactured in Italy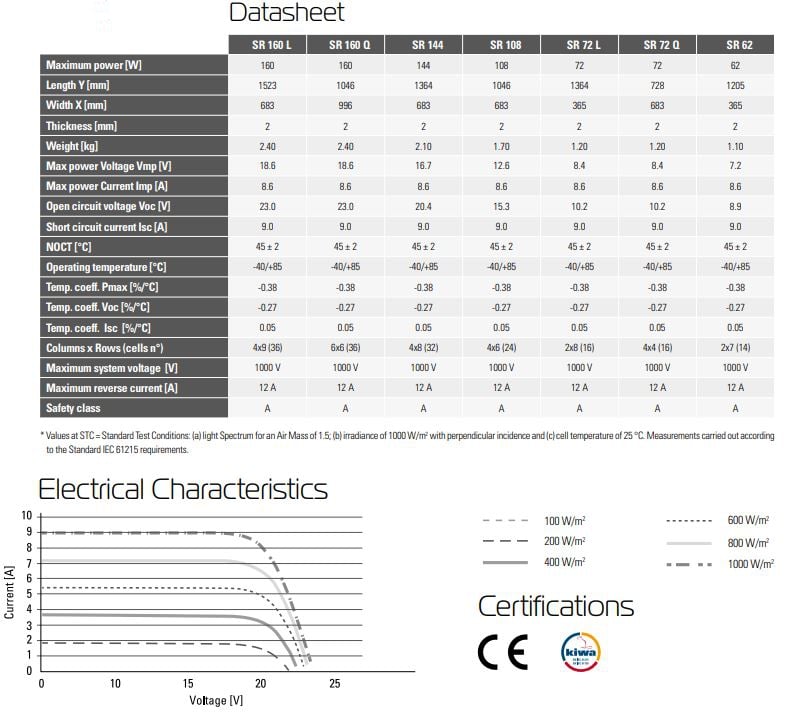 The 108W is in stock and the other sizes are available by phoneorder (approximately 3 weekdelivery time from Solbian)
---