RADpower SunPower range
RADpower with the latest SunPower A grade MAXEON GEN III solar cells
These premium RADpower thin, lightweight solar panels use SunPower's latest release highest efficiency A grade Maxeon Gen III cell so less cells are required in a flexible solar panel to obtain the same output of power. Now with an even more pronounced, tougher, textured, robust surface compared to our previous RADpower GEN II cell stock.

Sunpower Gen III cells have a higher efficency with higher voltage at a slightly lower amperage. The panel dimensions are reduced because less cells are required to obtain the same output power.
The output at higher temperatures has also been improved.
Features
Highest efficiency - made with genuine A grade SunPower cells (no seconds); More power and reliability from back contact cell design. This third-generation solar cell from SunPower has efficiencies of up to 24 percent;
Premium quality - ETFE top layer for UV resistance and textured surface for extra robustness;
Lightweight - no glass or frame;
Thin - only 3.5 mm thickness;
Sealed junction boxes to prevent moisture penetration that can cause corrosion;
Comprehensive installation instructions for canvas or hard surface
Eyelets or zips can be easily added
RADpower panels have guaranteed genuine SunPower Maxeon cells. Our manufacturer is one of only a few manufacturers in China that has certification from SunPower to access genuine SunPower cells and they provide us with the SunPower certificate of origin.
SunPower individual cell specifications: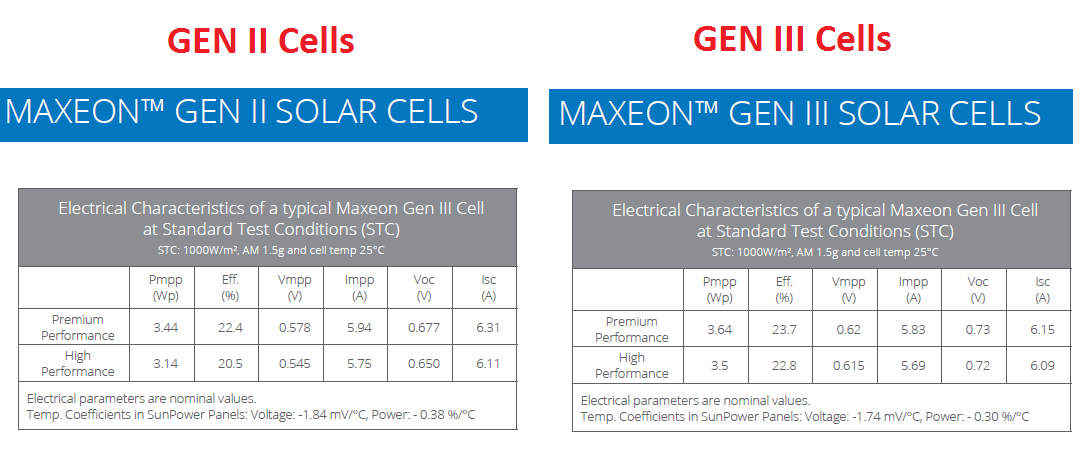 Note that the efficiency of the Gen III cells has increased by 1.3% over the Gen II cells, the voltage has increased by 6.8% and the amps has reduced by 2.5%. Very significant is the higher output at higher temperatures. The loss at high temperatures has been reduced by over 20%, so for a panel with Gen III cells operating at a very higher temperature the increase in output is at least 4% compared with a Gen II cell.
Click here to understand Sunpower panel amps
We have RADpower solar panels with GEN II cells on clearance here
Sizes available
RADpower GEN III cell solar panels
Sizes
Weight
Number of Cells
Voc - Open Circuit Voltage
Vmp - Maximum Power Voltage
Imp - Maximum Power Current
Isc -Short Circuit Current
110w
2.3
32
23
19
5.7
6
120w
2.6
36
25.5
21.7
5.7
6
135w
3
40
28.3
24.1
5.7
6
150w
3.3
44
31.2
26.5
5.7
6
STC: Standard Test Conditions: Incident sunlight of 1,000 W/m2, cell temperature of 25°C, Air mass 1.5.
An explanation of how to read solar panel specifications is available in our buyer guide available here
The Sunpower company limits the size of flexible solar panels manufactured using their cells to 150W. The failure rates for larger panels increases due to mechanical and thermal stresses on the panel.
The advantages of ETFE technology
ETFE (Ethylene-Tetra-Fluoro-Ethylene) is a high-strength fluorine polymer that is corrosion and stain resistant, non-stick self cleaning, and retains its clarity (and therefore light transmittance) ensuring long service life for solar panels.
It will not discolour or degrade from exposure to environmental pollution, UV light, harsh chemicals or extreme temperature variations. The textured surface offers an extra layer of protection and robustness and provides a small increase in efficiency due to its anti-reflective properties, which means more light passes to the cells.
Read our report explaining the reasons to invest in ETFE
The importance of using genuine A grade SunPower cells
Solar panels containing genuine GEN III SunPower cells developed in the US are the highest efficiency panel available on the market today, providing more power in the same amount of space. Efficiency refers to the percentage of sunlight hitting the panel that gets converted into electricity therefore a higher panel efficiency means that the panel can generate more power. These cells capture significantly more sunlight and conduct more electrical current than other solar cells. Our manufacturer is one of only a few manufacturers in China that has certification from SunPower and access to genuine SunPower cells and provides the SunPower certificate of origin.
Monitoring quality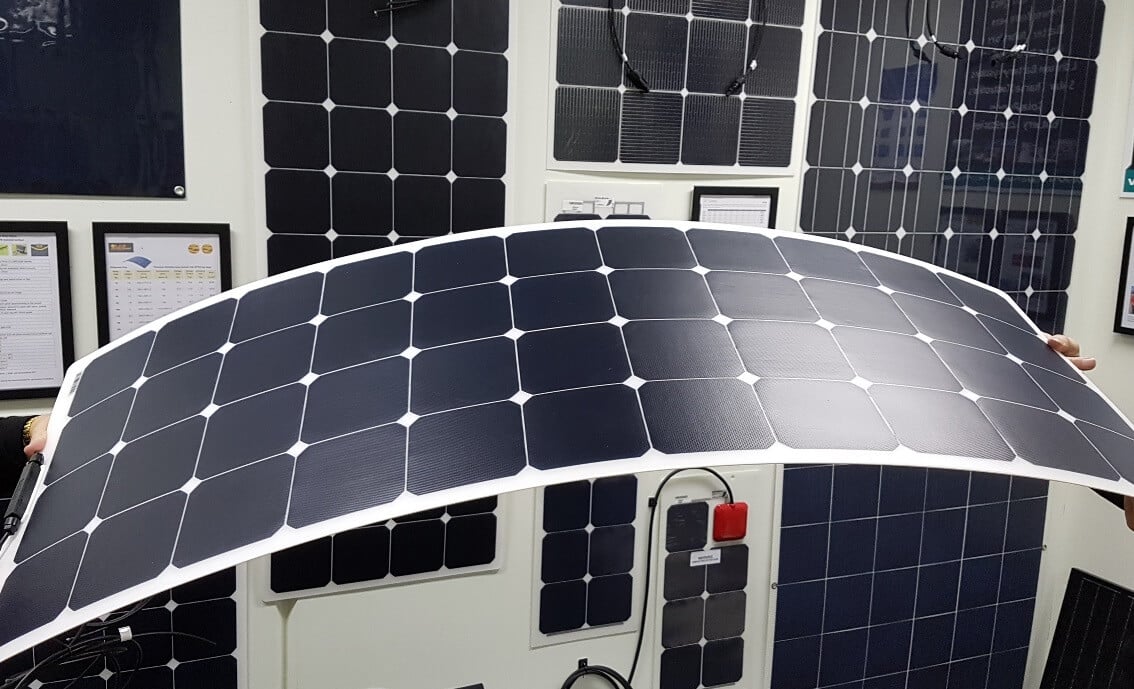 These Monocrystalline PhotoVoltaic (PV) flexible solar panels carry the Solar 4 RVs brand RADpower logo so we are very focused on consistent quality and reliability.
---
---