Century 70Ah GEL Deep Cycle Battery
Deep cycle power under extreme operating conditions
Free Fastway shipping for orders over $500 on most items to most areas. Calculate shipping in cart for more details.
RRP $541.00
$359.00
Special Order
Scroll down for recommended alternative products we keep in stock!
Century Deep Cycle Gel Batteries are specially designed to provide long lasting, dependable
deep cycle power under extreme operating conditions.
The Century Gel Deep Cycle Range incorporates advanced Gel electrolyte technology which
holds the battery plates in an immobilized gel. Specialist hard wearing internal components
and strong grid designs combine to provide excellent vibration resistance, superior deep
cycle performance and repeated deep discharge and recharge capabilities. They are ideal for
use in recreational vehicles and accessories, electric powered vehicles, mobility scooters,
wheel chairs and marine applications.
The range is completely maintenance free, requiring no topping-up of liquid electrolyte, whilst the valve-regulated sealed design enables installation in hard to reach locations.
Under Bonnet Fitment Advice:
Fuel, oil and other engine lubricants may cause damage to battery casing materials. It is strongly recommended that you avoid fitting Deep Cycle AGM batteries under the bonnet of your vehicle as this will void the warranty.
Special Features: Carry Handles, Central Venting, Flame Arrestor, Gel Electrolyte Technology, Maintenance Free, Vibration Resistant.
(C12-75DG)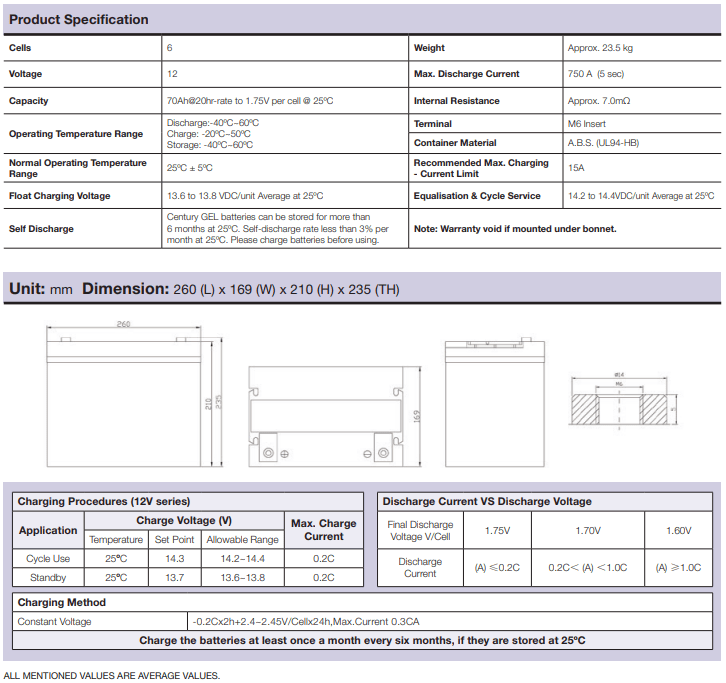 12 months warranty - Conditions apply. Refer to individual warranty statements affixed to each product.
---