Comparison of our Solar Panel Brands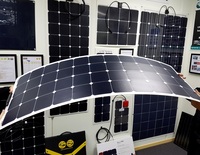 The top three brands of lightweight, flexible solar panels all have the following in common:
Quality, high-grade cells;
Tough textured surface;
Superior top encapsulation layer for UV protection and repelling pollution;
Appropriately soldered and sealed junction boxes to prevent corrosion from moisture;
Bypass diodes;
Electrical testing i.e. voltage and current, plus Electroluminescence (EL) testing during production. The electrical test confirms the current and voltage are within production limits while the EL test confirms that the cells are free of defects and are well matched. If present these result in a lower panel output and possibly a shortened lifespan.
Three premium brands
eArche - Tougher, Thinner, Lighter and More Durable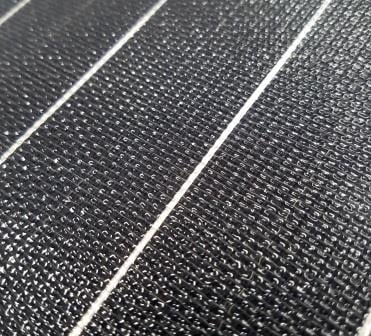 The only lightweight, flexible solar panel approved by the Aust Clean Energy Council
2.2mm thin and lightweight
Flexible (frameless and EPDM rubber edge options)
Stiffness and support (thin aluminium frame options
Advanced patent pending encapsulation materials similar to aircraft windows
Tough textured surface for robustness;
5 year warranty for mobile applications;
10 year warranty on buildings;
25 year linear output warranty;
Various sizes
Solbian - Designed for Racing Yachts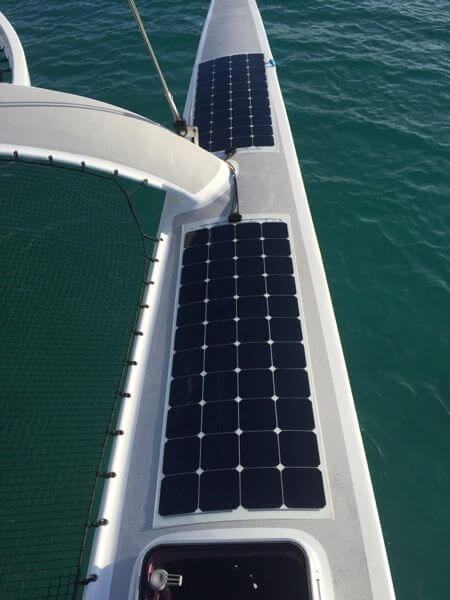 2mm thin and ultra-light.
Flexible;
Made in Italy;
The panel of choice for yachtsman: Marine grade - designed and tested on racing yachts;
Tough textured surface option for robustness;
Options include junction box on top, solder tabs underneath, or wires underneath;
Option of doubled-sided (Bi-Adhesive) acrylic sheet pre-attached to underside of panel for easy installation;
Factory fitted zips available or canvas maker can sew zips onto panel;
Eyelets can be fitted in location of choice;
Black or custom colour/pattern available to minimise or eliminate 'solar panel look';
Variety of length and width combinations available;
5 year world-wide warranty.
Options:
SP series: Sunpower cells - Most power per m2
AiO series: All-in-One - Inbuilt MPPT controller and Sunpower cells
SR series: Merlin cells with grid interconnect technology (Special Order Only) - Toughest range
SX series: Day4 cells with ultra-thin copper wire mesh - Tough, aesthetic and affordable
SXX series: Day4 HJT cells with ultra-thin copper wire mesh (Special Order Only) - High power and aesthetic
Fly Solartech - European Designed and Manufactured
Giocosolutions Range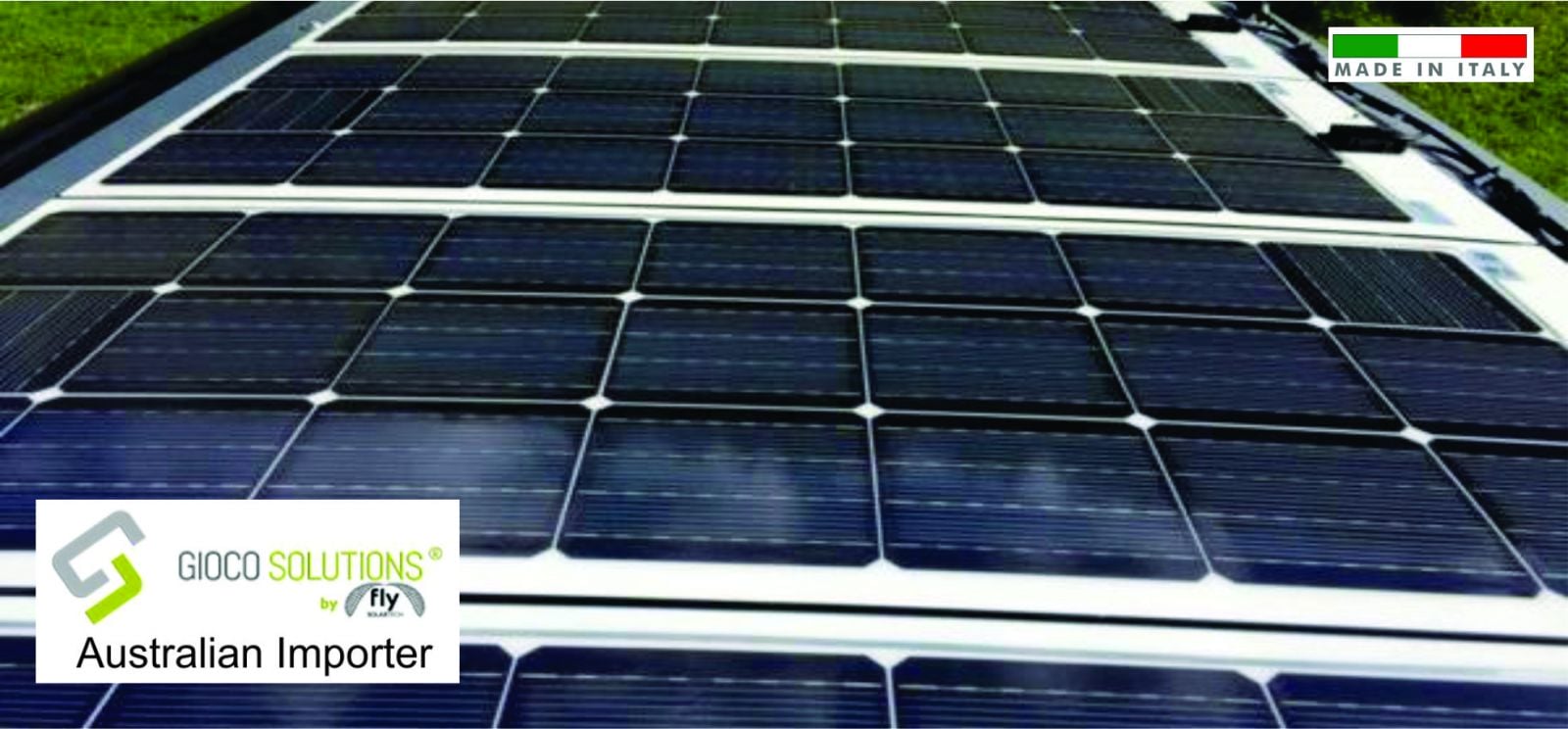 Peak efficiency: 21.5% using monocrystalline PERC cells which perform better in low-light and high temperature conditions
Thin and lightweight: Nanoscale silicon film means the panel is less than 1/5th the weight of a traditional panel with a thickness of only 2mm
Seven-layer design: Outperforms traditional 5 layer panels.
Tough and durable: F-ETFE2 providing UV stability and high scratch resistance
Low temperature coefficient: -0.31% / oC for extraordinary production even in hot environments
Flexible: Adaptable to curves and surface shape
Walkable: High-strength polymers provide toughness, using bi-adhesive backing these panels can be adhered directly to the surface
Increased weather resistance: endurance in extreme temperatures and resilient against environmental hazards
Certified: IEC 61701:2011 Salt mist - IEC 61215 10.17
Designed and manufactured in Italy
2Face - Double-sided Bi-facial Technology
2Face is the first semi-flexible solar panel in the world made with double-sided technology. It was designed to absorb radiation not only from the front face, but also from the underside thanks to its F-HJT cell. The double-sided cell allows greater energy generation!
It has all the features of the Giocosolutions range but uses high efficiency hererojunction (HJT) cells.