"Made in China" 5 things you need to know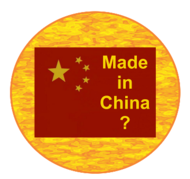 Not keen on products made in China?
Here are 5 things you may not know about products made in China…. and it's not all bad!
1. Many high profile brands are made in China
Apple outsources 98-100% of its manufacturing to China including the iPhone, iPod, iPad and MacBook. It is a global affair however as component parts are sourced from the U.S., Japan, Germany, and South Korea. Samsung and Sharp also utilise China manufacturing.
And then there's fashion. The number of shoes made in China annually reaches 12.6 billion, taking up 63 per cent of the world's total. Its per-capita production stands at 10 pairs, about eight times the average of other parts of the world. Nike, Puma, Converse, Asics, Reebok and Adidas are mostly made in China with some shoes made in Indonesia, Cambodia and Vietnam. Fashion brands such as Levi's, Esprit, Tommy Hilfiger and Zara are all made in China.
Other brands that have products made in China are Blaupunkt; Black & Decker; Braun; Bose and Bosch, Canon; Disney, Epson, GoPro, LG, Magnavox, Microsoft, Moulinex, Panasonic, Philips, Remington, Ryobi, Samsonite and Stanley.
2. Many quality products are made in China
China makes about 70.6 per cent of global mobile phones and produced 286.2 million personal computers in 2014, accounting for 90.6 per cent of the world's total. The per-capita production was 40 times the average of other parts of the world.
Chinese manufacturer Lenovo purchased IBM in 2005 for $1.75 billion and has succeeded in becoming the fourth-largest seller of laptops in the world. In addition, Lenovo is one of the leading environmentally friendly computer companies, perhaps helping support its success.
China produces 80% of world total of energy saving light globes and air conditioners.
Media coverage tends to focus more on Tesla and other American and European car manufacturers' electric car ventures rather than Chinese car manufacturers. However Beijing, a city of 20 million, is investing $1.3 billion to convert the city's 70,000 taxis to electric power. More battery electric vehicles were sold in China in 2016 than in the US, Norway, Britain, France, Japan and Germany combined.
3. 80% of the world's solar panels are made in China
Overall capacity is hitting 21.8 million kW annually.
Rigid household solar panels are widespread across Australian roofs with great success and extremely low failure rates yet 'made in China can still strike hesitation into purchaser's minds. Reputations and stigmas take a long time to subside stemming from flimsy toys to shrinking t-shirts.
There are plenty of cheap flexible solar panels being made in China however there are a limited number of flexble solar panel manufacturers in China that have access to Superior A-Grade Sunpower cells. Our manufacturer is one of these and they are absolutely focussed on quality and use the latest technology materials and production processes. This is reflected in a higher cost per panel but we are focussed on quality and will not compromise on quality to sell cheap, inferior products.
4. There are many grades of solar panels made in China
There are many manufacturers of flexible solar panels in China and products have had mixed reviews. Many grades of solar panels are produced with good and bad solar cells and good and bad encapsulation methods.
Chinese manufacturers sell their panels through pro-active marketing campaigns and email cold-calling. We constantly receive offers of 'cheap' panels. This can be very tempting for sellers of solar panels as it means they can attract buyers with cheaper prices and achieve a better profit margin. The problem is that manufacturing issues are likely such as overlapping cells, damaged cells, inferior cells (are you really getting SunPower cells?), sharp edges or inadequately sealed junction boxes allowing corrosion from moisture including sea water​​ on boats.
5. Premium flexible solar panels are available from China - But you need to be careful!
Solar 4 RVs imports their premium 'RADpower' brand flexible panels with strict quality criteria. No off-the-shelf solar panels from standard manufacturing runs are purchased.
All RADpower flexible solar panels are manufactured to specific standards in custom production runs according to Solar 4 RVs specifications. Our trusted manufacturer is focussed on providing quality products and meeting expectations in Australia. We have a longstanding relationship with our manufacturer and have visited the factory in Shenzhen to see how the panels are made, to monitor quality and discuss staying at the forefront of new technologies as they become available.
Our manufacturer:
Is one of only a handful of manufacturers in China that has access to SunPower cells and has Certification from SunPower that they use genuine SunPower MAXEON GEN III solar cells in their flexible solar panels;
Our panel manufacturer has an accredited ISO9001 quality management system which means processes are in place for consistent, good quality products and services;
Our panels carry the CE Mark which is a mandatory mark for certain product groups, including solar panels and electronic products, in order for them to be sold in the European market;
During production, all our panels are subjected to testing electrical testing, i.e. voltage and current plus Electroluminescence (EL) testing. The electrical test confirms the current and voltage are within production limits while the EL test confirms that the cells are free of defects and are well matched.

In Summary
We supply hundreds of businesses and government departments as well as the public so it is critical for us to maintain our reputation as a trusted supplier that focusses on quality.
You get what you pay for so consumers need to balance the risk against the purchase price. We do pay more for our panels to ensure quality and therefore our panels cost more for consumers to buy. In the long this is money well spent.
Our after sales service is unmatched.
Read our guide: Facts you MUST know before buying flexible solar panels
China statistics from https://www.productfrom.com/products/CN/0/0/1