Comparison of three best lightweight flexible solar panel brands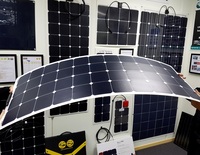 The top three brands of lightweight, flexible solar panels all have the following in common:
Quality, high-grade cells;
Tough textured surface;
superior top encapsulation layer for UV protection and repelling pollution;
Appropriately soldered and sealed junction boxes to prevent corrosion from moisture;
Bypass diodes;
Electrical testing i.e. voltage and current, plus Electroluminescence (EL) testing during production. The electrical test confirms the current and voltage are within production limits while the EL test confirms that the cells are free of defects and are well matched. If present these result in a lower panel output and possibly a shortened lifespan.
Getting quality lightweight flexible solar panels
It's not WHERE they are made that is important - it is HOW they are made.
The majority of flexible solar panels are made in China even if the seller doesn't declare this and refers to 'cells' as being made in the US. There are many manufacturers in China and they produce various grades of solar panels and then sell them to retailers through pro-active marketing campaigns and email cold-calling. Flexible solar panels can be offered by Chinese manufacturers at a cheap price because they are mass produced in large production runs with low cost cells and materials and minimal quality control checkpoints.
Premium flexible solar panels are also made in China but they cost more as they need to be made-to-order against quality specifications and made by trusted manufacturers using quality materials. This quality comes at a price - you get what you pay for so customers need to assess the risk of buying cheaper flexible solar panels.
Possible issues that could be encountered when purchasing cheap flexible solar panels:
Damaged cells;
Overlapping cells;
Low grade, inferior cells
Sharp edges;
Inadequately sealed junction boxes allowing corrosion from water, particularly sea water;
Zinc plated fixings in the junction box which corrode with moisture;
Inferior by-pass diodes fitted or not fitted at all.
Read 'How to compare good and bad flexible solar panel' here
Three premium brands
eArche - Tougher, thinner, lighter and more durable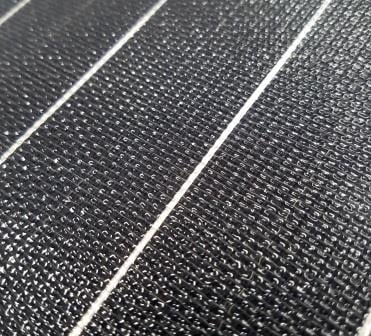 The only lightweight, flexible solar panel approved by the Aust Clean Energy Council
2.2mm thin and lightweight
Flexible (frameless and EPDM rubber edge options)
Stiffness and support (thin aluminium frame option)
Advanced patent pending encapsulation materials similar to aircraft windows
Tough textured surface for robustness;
5 year warranty for mobile applications;
10 year warranty on buildings;
25 year linear output warranty;
Made in China (read 'Made in China - 5 things you need to know)
Various sizes - smallest panel 85W, largest 325W
Edging options:
Frameless (no edge)
rubber edge for flexbility
thin anodized aluminium alloy frame for stability
Solbian made in Italy - tested on racing yachts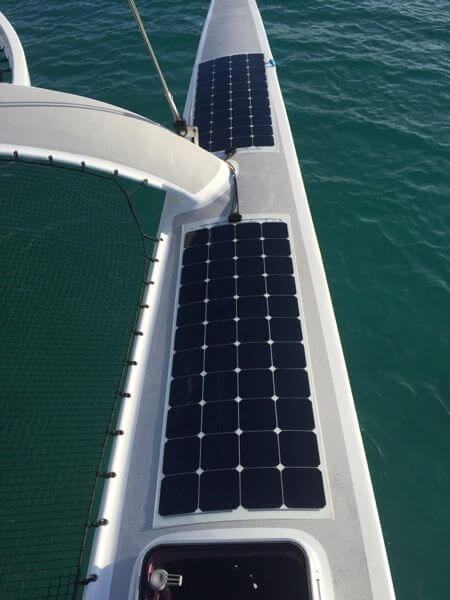 2mm thin and ultra-light.
Flexible;
Made in Italy;
The panel of choice for yachtsman: Marine grade - tested on racing yachts;
Tough textured surface option for robustness;
Options include junction box on top, solder tabs underneath, or wires underneath;
Option of doubled-sided (Bi-Adhesive) acrylic sheet pre-attached to underside of panel for easy installation;
Factory fitted zips available or canvas maker can sew zips onto panel;
Eyelets can be fitted in location of choice;
Black or custom colour/pattern available to minimise or eliminate 'solar panel look';
variety of length and width combinations available;
5 year world-wide warranty.
Options: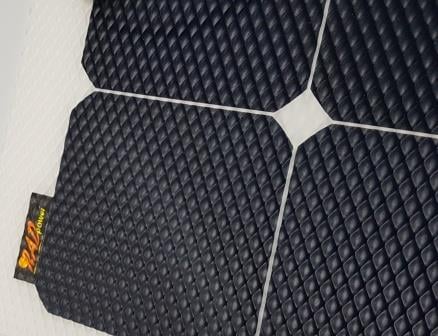 Comparison of flexible solar panels

eArche

Solbian

RADpower

SP

Sxp

SR

Multi-Mesh

Cell Type

Monocrystalline silicon

SunPower Monocrystalline

Polycrystalline

Merlin Monocrystalline

Monocrystalline with multi-wire technology

Sizes available

50W, 100W, 160W, 180W

52W, 75W,100W, 118W, 125W, 137W

48W, 64W, 128W, 156W

108W

130W

Junction box

IP 68 rated

IP 68 rated

IP 68 rated

IP 68 rated

IP 68 rated

Output cable type

PV1-F, 4mm2
(tinned copper)
PV1-F, 4mm2
(tinned copper)

PV1-F, 4mm2 (tinned copper)

PV1-F, 4mm2 (tinned copper)

PV1-F, 4mm2
(tinned copper)

Output cable length

pos 0.2 metres
neg 0.5 metres

0.6 metres each

0.6 metres each

0.6 metres each

2 metres each

Connectors
fitted

MC4 compatible connectors

European MC4 compatible connectors

European MC4 compatible connectors

European MC4 compatible connectors

none fitted
MC4 connectors available

Top layer

composite material

polymer

polymer

polymer

ETFE

Edging

None, EPDM rubber or thin aluminium frame

None

None

None

None

Thickness of panel

panel only
2.2mm

2mm

2mm

2mm

3.0mm

EPDM edging 8mm

nominal

nominal

nominal

nominal

slim frame 6mm

thick frame 20mm

Weight

varies

depending on edging

varies

varies

varies

varies

e.g. 100W = 2.1 kg

e.g 100W = 1.4kg

e.g. 108W = 1.7kg

130W = 2.8 kg

Manufacturer's product warranty (years)

5 mobile

10 buildings

5

5

5

2
To read our flexible solar panel buyer guides - CLICK HERE
Solar panel installation products such as double-sided adhesive tape is available - CLICK HERE