6 reasons to invest in flexible solar panels that have an ETFE top layer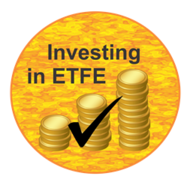 In line with our continued commitment to quality, our flexible panels now have a top layer of ETFE.
There are multiple advantages to utilising this superior technology on flexible solar panels for caravans, marine and industrial applications.
What is ETFE
ETFE (Ethylene-Tetra-Fluoro-Ethylene) is a high-strength fluorine polymer that is corrosion and stain resistant, non-stick self cleaning, and retains its clarity (and therefore light transmittance) ensuring long service life for solar panels.
​Benefits of ETFE
1. Durable
ETFE film is extremely durable and the film will not discolour or structurally weaken over time. Whether it is exposed to chemical, thermal or ultra-violet. ETFE is structurally resistant.
It will not discolour or degrade from exposure to environmental pollution, UV light, harsh chemicals or extreme temperature variations.
2. Long life
ETFE is robust and unlikely to degrade from exposure to environmental pollution, UV light, harsh chemicals or extreme temperature variations increasing the longevity on flexible solar panels.
Even though ETFE on flexible solar panels is new, in other applications ETFE has proven to have excellent longevity and is unaffected by environmental pollution and UV radiation.
Research shows that the ETFE film has the ability to retain its strength for more than 35 years whilst at the same time retaining its transparency and self-cleaning properties.
3. Tensile strength
Tensile strength is measured by the maximum stress that a material can withstand while being stretched or pulled before breaking. ETFE films are very elastic (up to 600% at breaking point) yet they are still structurally resistant.
4. Stain resistant and easy to clean
Due to low coefficient of friction of its surface, dust or dirt will not stick onto the ETFE film. The non-adhesive surface properties means the solar panels are less likely to hold pollutants which can block the sun as deposits of dirt, dust, and debris are washed away by the rain resulting in a "self-cleaning" effect.
5. Light transmission
Sunlight reaching the solar cells is obviously a key component of efficiency. ETFE is not a fabric but a highly transparent, very lightweight film that can be supplied as a single layer membrane. With a thickness of only 0.5 millimetres ETFE provides a flexible, lightweight alternative to glass - perfect for flexible solar panels.
6. Fire rating
ETFE FIlms have been rates under different national and international standards as self-extinguishing with no burning drops.
7. Environmentaly friendly
The production process of ETFE is water-based, does not require the use of chemical solvents or petroleum derivatives, and respects the Montreal Treaty, which means that EFTE is not within the group of materials that deplete the ozone layer. The ETFE layers are 100% recyclable.

Non-slip textured coating combined with ETFE
Some of our lightweight flexible solar panels also have a non-slip textured surface ideal for the marine environment. The textured surface offers an extra layer of protection and robustness and provides a small increase in efficiency due to its anti-reflective properties, which means more light passes to the cells.
Other interesting uses for ETFE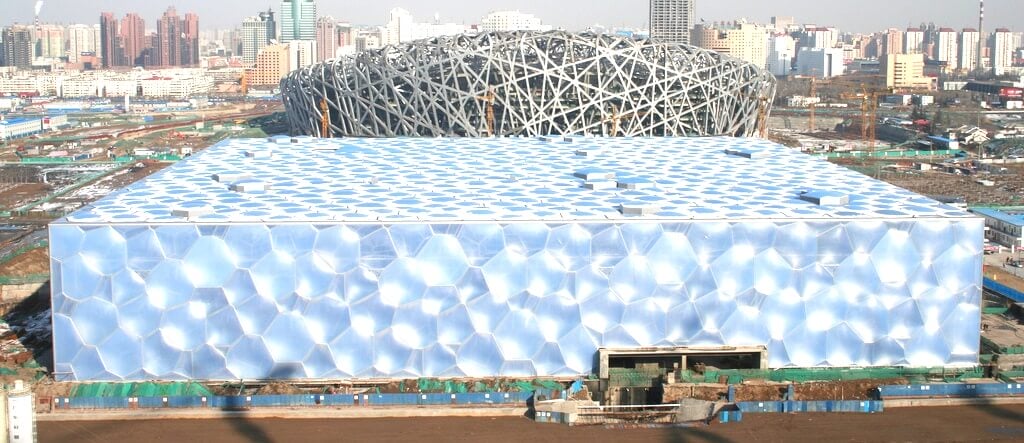 Popular in architecture, the Beijing National Aquatics Centre (the Water Cube of the 2008 Olympics) is the
world's largest structure made of ETFE film.
ETFE is also commonly used in the nuclear, aviation and aerospace industries because of its mechanical toughness. In addition, ETFE exhibits a high-energy radiation resistance and can withstand high temperatures for a long period of time.
Read our guide: Facts you MUST know before buying flexible solar panels