Choosing flexible solar panels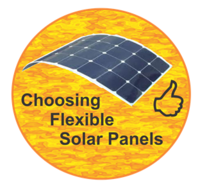 With so much information available regarding lightweight solar options it can become confusing and time-consuming to ascertain what is accurate, what is misleading or what is even detrimental to the longevity and output of a solar system. Warranty, quality and efficiency claims for flexible solar panels can all sound impressive!
Appropriate product choices and correct installation methods are very important for long service life and optimal energy harvesting.
Credible advice
As specialists in lightweight solar for mobile applications we have produced a number of guides to assist the public, RV and boat manufacturers, dealers and repairers. Supplying hundreds of businesses across Australia, New Zealand and the South Pacific, Solar 4 RVs has the largest range of thin, lightweight solar panels in Australia and specialise in premium brand solar products.
Co-owner and electrical/electronics engineer Phil draws on extensive research, in-house testing and experience when providing advice and support and designing systems. Before founding Solar 4 RVs he worked on some of Australia's largest and most complex defence projects.
Recognised for our industry leadership through numerous awards we pride ourselves on our ethical approach and honest communiction.