World's first solar train with eArche is award finalist
Date Posted:17 September 2018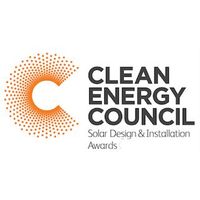 Clean Energy Council Award Finalist
The finalists in the 2018 Solar Design and Installation Awards have been announced and eArche solar panels feature in the 30-240 kW solar system category.
The Solar Design and Installation Awards recognise excellence in the design and installation of Australian solar projects. Nicholas Lake, Gregory Wilson and Simon Gibbs (Nickel Energy) are finalists for converting a 68-year-old diesel train to become the world's first solar-powered train in Byron Bay, NSW.

World's First Solar Powered Train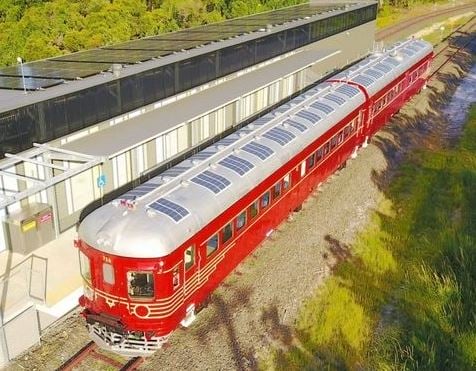 The two-carriage heritage train was fitted out with 6.4kW of eArche solar panels and a large solar battery bank and officially launched on 16 December 2017. The train operates on energy from the sun, with one diesel engine remaining solely as emergency back-up.
The revamped train does 14 round trips a day providing a return shuttle service for the three kilometre journey between North Beach Station in Sunrise Beach and the Byron Beach Platform in Byron Bay township.
There is a train in India that has solar panels to power lights and fans, but not to power thea whole train.

The benefits of eArche lightweight thin solar panels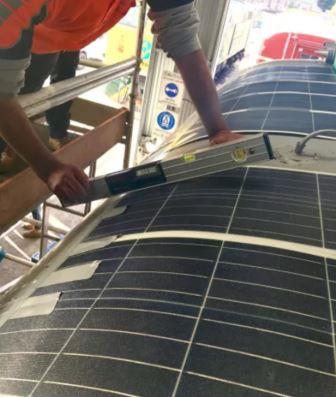 Ultra-light, thin and flexible eArche solar panels can be easily applied to mobile applications such as RVs, boats and vehicles. With a patent pending super tough exterior and a 5 year manufacturer's warranty they are changing the face of flexible solar panels.
Solar 4 RVs is proud to partner with the Australian importer to offer these superior panels to the Australian mobile market