Visiting suppliers
Date Posted:18 April 2017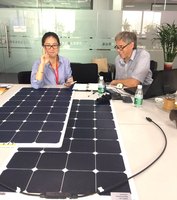 Maintaining good relationships with our suppliers is the key to obtaining quality products.
Owners Phil and Trish spent last week conducting visits to their solar panel and lithium battery suppliers in Hong Kong and China. Factory tours of each facility were conducted followed by extensive discussions regarding product technical information, quality, research and development and future initiatives.

They met with CEOs, relationship managers, technical directors, and other staff and much information was shared to the benefit of all concerned. The amount of time they allocated and their hospitality was greatly appreciated.