RADpower brand launched
Date Posted:10 March 2017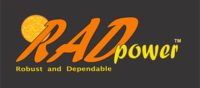 Solar 4 RVS / Solar 4 Boats products will now carry the brand name 'RADpower'.
Our premium flexible solar panels and portable solar panels both with ETFE have been so popular we thought they deserved name recognition.

Our Lithium batteries will also carry the RADpower logo as will our own inventions such as the solar panel combiner with inbuilt diodes.