NEW Premium lightweight 150W portable solar panel
Date Posted:9 January 2017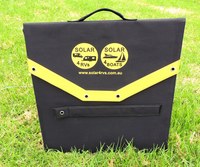 Our new premium lightweight (5.2kg), high efficiency 150W portable solar panels with ETFE top layer are now in stock.
We are excited to offer this superior product into Australia after investing significant time to its development and assessing several design prototypes.
Subsequently we feel this portable solar panel has features that truly make it the best portable solar panel on the market.

Three high efficiency 50W monocystaline flexible solar panels made with SunPower cells are encapsulated in a tough black canvas which fold into a neat carry case arrangement. The backing is FR4 which is flame resistant and has excellent electrical insulating qualities. There are support legs that fold out, each having eyelets for securing to the ground with pegs. There are 10 eyelets to enable various configurations. Two metres of cable is pre-attached.

The solar panel's top clear layer is made of ETFE (Ethylene-Tetra-Fluoro-Ethylene) which is a high-strength fluorine polymer that is corrosion resistant, highly stain resistant, highly elastic, is easy-to-clean, has high light transmittance, and boasts long service life. It will not discolour or degrade from exposure to environmental pollution, UV light, harsh chemicals or extreme temperature variations. The surface is textured for extra robustness.
The portable can be sold individually (which includes a 5m extension cable) or in a kit with a quality Dutch brand Victron MPPT solar charge controller.​