Solar system designed for solar-electric boats
Date Posted:10 June 2015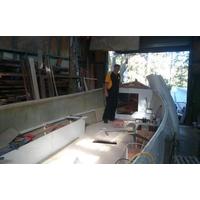 During his trip to Brisbane last week Phil met with Derek, the owner of Scruffie Marine, to discuss installation of our solar system for their two new solar-electric launches that are being built for service on the Swan River in WA.
The new environmentally friendly solar-electric boats will each carry 12 passengers in whisper quiet comfort and be based in Perth's CBD.
Scruffie Marine has taken delivery of 36 of our thin, flexible panels which will be fitted to the canopy (18 for each boat).
We will also be providing the solar charge controllers.