Genasun MPPT Charge Controller now in stock
Date Posted:11 June 2015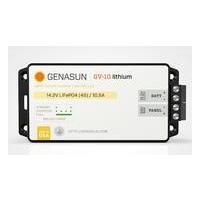 Genasun's MPPT charge controllers are robustly designed for land mobile and the marine market.
At up to 10.5 Amps the range covers smaller solar arrays.
They are virtually unique in having boost converters that boosts the voltage of small panels to charge 12 and 24V batteries. This makes them the ideal controller for small Solbian panels.