150W premium portable solar panel Combo
includes Victron 75/15 MPPT controller and cables
Premium high efficiency lightweight portable solar panel with three 50W panels that fold into canvas carry bag arrangement. Top layer is latest technology ETFE. Three Fold out legs, 10 eyelets, 2 metres of cable pre-attached plus 5m extension cable
$995.00
RRP $1,055.00
SAVE $60.00 (6%)
In Stock
This Combo includes the panel with extension cable PLUS a Dutch brand Victron MPPT 15A solar charge controller (75/15) plus two cable tails to connect the controller to the battery and the controller to the solar panel or extension cable.
This high efficiency monocrystalline portable solar panel with UV stable ETFE top layer and robust textured surface is a premium product with the latest technology.
Three 50W monocrystalline flexible solar panels made with high efficiency SunPower cells are encapsulated in a tough black canvas which folds into a neat carry case arrangement. The backing is FR4 which is flame resistant and has excellent electrical insulating qualities.
ETFE: The solar panel's top clear layer is made of ETFE (Ethylene-Tetra-Fluoro-Ethylene) which is a high-strength fluorine polymer that is corrosion and stain resistant, non-stick self cleaning, and retains its clarity (and therefore light transmittance) ensuring long service life . It will not discolour or degrade from exposure to environmental pollution, UV light, harsh chemicals or extreme temperature variations.
Textured surface: for extra robustness.
Support legs for angle to the sun: There are support legs that fold out to support the three panels to face the sun, each having eyelets for securing to the ground with pegs.
Eyelets: There are a further 10 eyelets to enable various configurations for securing the panel.
Adequate cable length with Anderson connectors: Two metres of cable is pre-attached plus a 5m extension cable is included in the rear pouch all fitted with genuine Anderson connectors.
Buying the combo is a significant saving on buying the components seperately. Excellent value for a premium lightweight, robust products.
For those that do not need a controller/regulator the panel is available as a stand-alone item without the controller and the cable tails.
(RPP150Wcombo)
Three slim 50W lightweight monocrystalline solar panels fold out with support legs to face the sun;
Includes 2m cable pre-attached and 5m extension cable all with Anderson connectors fitted;
High Efficiency - SunPowerô¸ solar cells at 20% to 21.5% cell efficiency;
Robust - ETFE top layer and textured surface;
Easy to carry - slim canvas bag style with handle;
Easy to store - three slim 50W panels folded together;
Easy to manage - no frames or glass;
Easy to use - only two folds required to unpack and pack up plus in-built support legs so panels can face the sun;
Versatile - 2 metres of cable pre-attached plus 5 metres of solar extension cable with Anderson connectors so you can be in the shade whilst the panels are in the sun;
The cable is UV resistant and rated for outdoor use;
The backing is FR4 which is flame resistant and has excellent electrical insulating qualities;
Solar charge controller option - Premium Dutch brand Victron 15A MPPT solar charge controller;
Value for money - These monocrystalline portable fold-up solar panels require the least amount of surface area to generate the same amount of power when compared with polycrystalline and amorphous thin film (blanket style) panels. Amorphous thin film portable solar panels are usually around 8% efficiency and therefore require much greater surface area to generate the same amount of power and usually cost more;
Long life-span - Monocrystalline has a longer lifespan than thin film solar cells so these portable solar panels will generate its rated output power longer than thin film portable solar panels;
These panels are intended for portable use and not for permanent installation. For longevity they should be folded up and stored upright in their shipment box between use.
Portable Solar Panel
Cells: Genuine A Grade Sunpower cells
Solar panel type: Monocrystalline
Solar panel surface material: ETFE (textured)
Cell encapsulation: EVA
Canvas colour: Black (colourfast)
Backing material: FR4
Support legs: Three aluminium legs with black canvas cover (One at the centre of each 50W panel)
Eyelets: 316 stainless steel (10 on panel and one at the bottom of each support leg)
Weights and Dimmensions (mm)
Folded: H; 545 W; 545 Thickness; 20
Unfolded panels: H; 1995 W; 545 Thickness; 4mm
Weight: 5.2 kg + 0.7kg extension cable
Cable and connectors
​Cable gauge: 4mm2
Pre-attached cable length: 2 metres
Extension cable: 5 metres
​Connectors: SB50 Anderson Grey (Genuine)​
Electrical specifications
Cell type: Sunpower E20 cell (back contact monocrystalline cell)

Cell arrangement: 32 half wafers in series in each sub-panel. The 3 sub-panels each are nominal 50W are in parallel

Cell peak power at standard test conditions (STC): 1.6W peak per wafer giving total of 153.6W peak

Panel peak power and tolerance at STC: 150W ±3%

Voltage at Pmax (Vmp): 17.9

Current at Pmax (Imp): 8.55

Open circuit voltage (Voc): 21.1

Short circuit current (Isc): 9.15

Ambient Temperature (note 1): -40℃ to + 45℃

Panel operating temperature: -40℃ to + 85℃

Temperature Coefficient of Pmax: -0.38%/℃

Temperature Coefficient of Voc: -0.27%/℃

Temperature Coefficient of Isc: +0.05%/℃
Victron MPPT 75/15 Solar Charge Controller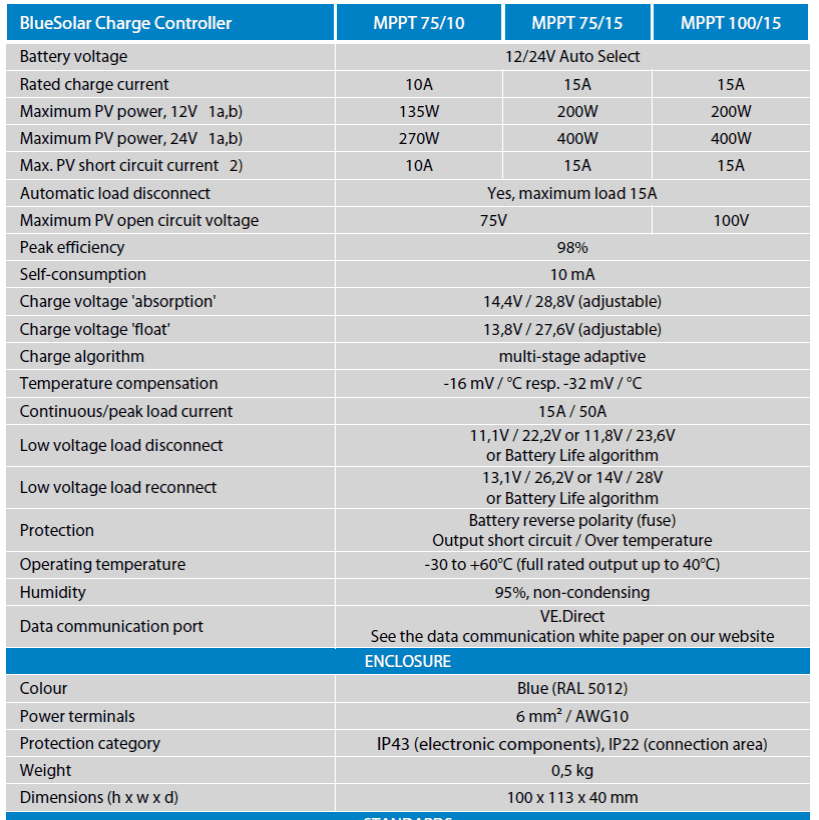 SKU
Product Function and Performance
Product Weight and Dimensions
Shipping Weight and Dimensions
| | |
| --- | --- |
| Shipping Weight | 8.8000kg |
| Shipping Width | 0.650m |
| Shipping Height | 0.080m |
| Shipping Length | 0.650m |
| Shipping Cubic | 0.033800m3 |
2 years for the panel and 5 years for the controller
---
Others Also Bought
---
More From This Category