RADpower Smart-wire-connection-technology solar panels contain high performance and high reliability solar cells with 19 wires interconnecting each cell and have a tough UV resistant top layer of ETFE.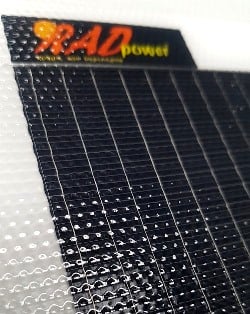 The advantages of ETFE technology
ETFE (Ethylene-Tetra-Fluoro-Ethylene) is a high-strength fluorine polymer that is corrosion and stain resistant, non-stick self cleaning, and retains its clarity (and therefore light transmittance) ensuring long service life for solar panels.
It will not discolour or degrade from exposure to environmental pollution, UV light, harsh chemicals or extreme temperature variations. The textured surface offers an extra layer of protection and robustness and provides a small increase in efficiency due to its anti-reflective properties, which means more light passes to the cells.
Read our report explaining the reasons to invest in ETFE
The advantages of Smart-wire-connection technology
https://www.meyerburger.com/en/technologies/photovoltaics/high-efficiency-technologies/swct/
Multi-Wire Inter-Connection Technology provides energy output beyond the limitations of standard busbar technologies.
With more interconnection points than a conventional bus-bar design Multi-Wire Inter-Connection cells are more resistant against cell cracks or breakage.
The individual cells also adapt to curved surface so are less prone to micro-cracking.
More Effective Power Generation
The monocrystalline solar cells used boast 20.6% efficiency and low light performance.
Long distances between bus-bars can result in more electrical loss during transfer. The unique mesh design creates short distances between multiwires increasing the electrical flow during transfer
Power generation is also less affected by cell cracks as MWCT has 7 times more interconnection points versus 3BB cell design (2,100 point vs 300 points). This means power failure due to cracks will be minimised

Higher utilisation of light
Current is not forced to go through bars so your losses are reduced.
Multi-Wire Inter-Connection Technology drives the energy output of solar modules to the next level beyond the limitations of standard busbar technologies
The dense wire contact matrix enables increased power extraction delivering an increased performance yield and strengthens its stability.

Draws heat away from cell surface on hot days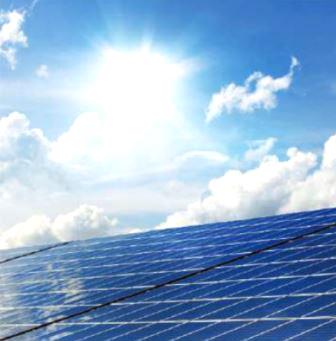 During summer, the temperature on the surface of solar cells can reach as high as 80 degreeC. With multi-wire electrode technology the wires on the top and underneath can act as a heat sink and help draw heat away from the cell surface which can assist in minimising power generation loss.
Installing onto a solid/rigid surface?
The way lightweight, flexible solar panels are installed, and the materials used, can have a profound impact on their output power and longevity. This combination of installation products in the combo ensures the best possible output and long service life of the solar panel based on significant research, testing and field trials.
If installing onto a rigid surface such as a caravan roof or non-canvas boat bimini we strongly recommend purchasing the 1 x 125W Combo (Smart-wire panel with install kit)
(RP-EEPV125W)
Features of RADpower Multi-Mesh solar panels
Latest technology - Smart-Wire Connection Technology (SWCT):
Tough - UV resistant ETFE top layer
Lightweight - 2.8kg for 130W panel
Thin - 3mm thickness
Flexible - Suitable for curved surfaces
Can be stepped on with soft sole shoes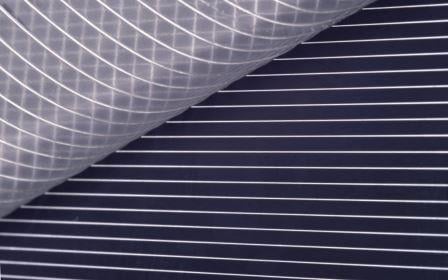 Features of Smart-Wire Connection Technology (SWCT):
No bus bars so less eletrical loss during transfer
More effective power generation - dense wire mesh matrix enables increased power extraction
20.6% efficiency and low light performance
Cells more resistant to cracking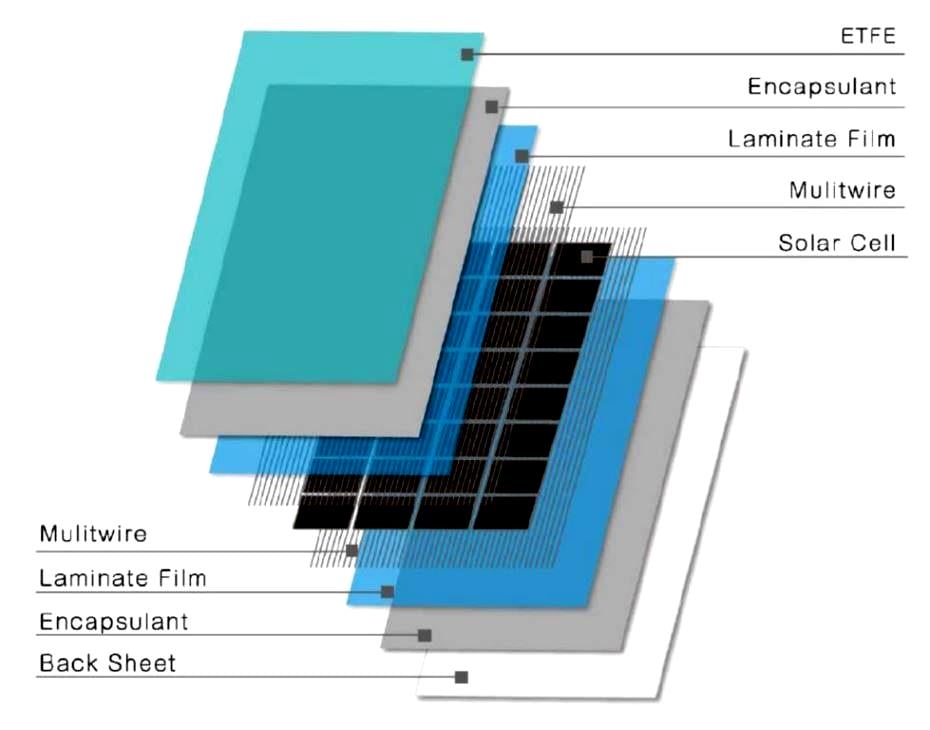 125W
No. of cells
40 cells (10 x 4 )
Weight
2.7 kg
Dimensions (mm)
1350 x 540 x 3
Peak power (Pmax)
125Wp
Open-circuit Voltage (Voc)
25.4
Max power voltage (Vmp)
21.6
Short-circuit Current (Isc)
6.28
Maximum Power Current (Imp)
5.93
Cell Type
Monocrystaline silicon
Panel thickness
3 mm
Junction box height above panel surface
17 mm
Cable type
PV1-F, 4mm2 (tinned copper)
Cable length
2 metres
Connectors
nil
Operating temperature (℃)
-40 ℃ to 85 ℃
Maximum system voltage
100V DC
Power Tolerance
±3 %

STC: Irradiance 1000W/m2, Cell temperature 25℃, AM=1.5.
SKU
Product Function and Performance
Product Weight and Dimensions
Shipping Weight and Dimensions
| | |
| --- | --- |
| Shipping Weight | 3.0000kg |
| Shipping Width | 0.550m |
| Shipping Height | 0.025m |
| Shipping Length | 1.360m |
| Shipping Cubic | 0.018700000m3 |
---
You May Also Like
---
Others Also Bought
---
More From This Category