SunPower flexible panels use SunPower prime cells which are the highest efficiency silicon cells on the market (Based on survey of datasheet values from websites of top 20 manufacturers per IHS, as of January 2018). Made with SunPower's highest power Maxeon® back-contact cells, SunPower's flexible panels deliver the highest power output and the highest charging capacity in their product class.
Quality and flexibility
The SunPower Maxeon® Solar Cell is the only cell built on a solid copper foundation and is the #1 choice for ruggedness.
Designed in California, manfactured in SunPower global factories, including France and the Philippines. SunPower-branded flexible panels are built in the same factories as our industry-leading framed panels with mostly automated production processes to ensure consistent quality.
SunPower manufactures each panel using a top-grade, lightweight polymer material, allowing for easy transport, installation, and flexibility up to 30 degrees. Each panel comes with MC4 male and female connectors that can connect easily to solar compatible devices. Connection cables are device-specific and sold separately.
Powerful and space efficient
Made with SunPower's highest-efficiency* Maxeon® solar cells, SunPower flexible solar panels deliver the most power and highest charging capacity in their product class* (SunPower reached a production average cell conversion efficiency of 25% at its Fab 4 facility in the Philippines, the highest in the industry, February 2017).
More power for more savings. SunPower leads the industry in solar panel efficiency available today. (SunPower 360W compared to a Conventional Panel on same size arrays (260W, 16% efficient, approx. 1.6m2), 4% more energy per watt (based on third party module characterization) .
22–25% efficient cells mean higher power production and faster battery charging times.
Durability and weather resistance
Made with a thick copper foundation, our solar cells are able to withstand harsh weather conditions and are almost impervious to corrosion. Nearly impervious to cracking and corrosion as opposed to 'resistant to cracking and corrosion'
Every SunPower flexible panel comes with MC4 connector cables (male and female).
SunPower is recognised world leader and trusted solar provider for over 30 years SunPower are solar manufacturers leading the way with innovative solutions, record-breaking technologies and superior service.
750+ solar patents;
#1 in R&D spending for crystalline solar (Heslin Rothenberg Farley & Mesiti P.C. (2016). Clean Energy Patent Growth Index: 2015 Year in Review)
More than 32 million solar panels deployed worldwide
CLICK HERE for genuine SunPower 327W rigid framed solar panel
(SP110SP)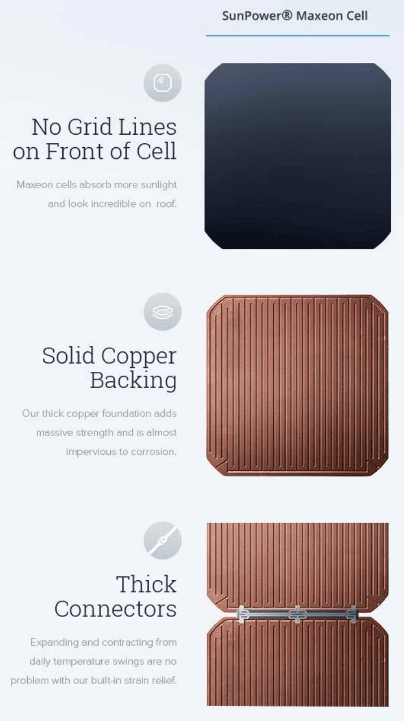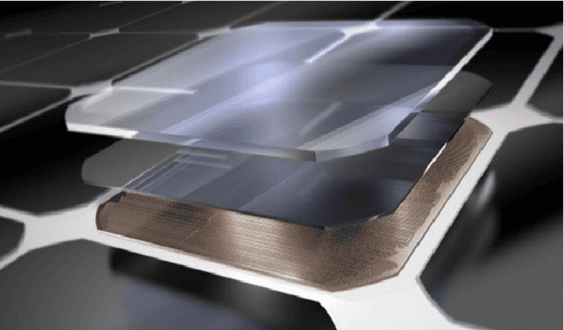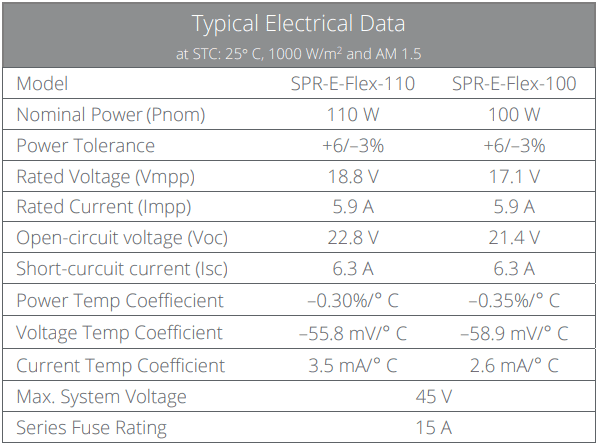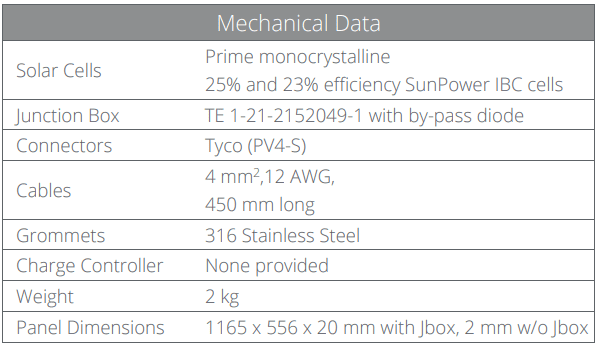 SKU
Product Function and Performance
Product Weight and Dimensions
Shipping Weight and Dimensions
| | |
| --- | --- |
| Shipping Weight | 2.5000kg |
| Shipping Width | 0.600m |
| Shipping Height | 0.021m |
| Shipping Length | 1.200m |
| Shipping Cubic | 0.011283150m3 |
2 years product warranty
5 year output warranty
---
Others Also Bought
---
More From This Category